October 25-31, 2006
home | metro silicon valley index | movies | current reviews | film review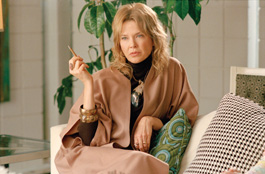 Maternal Instincts: Annette Bening gives motherhood a new meaning in 'Running With Scissors.'
Mommie Weirdest
Annette Bening runs riot in smooth adaptation of Augusten Burrough's 'Running With Scissors'
By Richard von Busack
AS DEIRDRE, a mad caftan-wearing poetess in Running With Scissors, Annette Bening is more fun than she's ever been before. Bening's career represents an unsuccessful attempt to tamp down her theatricality in favor of the screen. One of Bening's greatest successes, then, was playing a stage diva in Being Julia. She goes further in Running With Scissors. As a narcissistic, overmedicated mom, Bening really gets a chance to make every room her personal proscenium arch. Deirdre is an unsuccessful versifier worshipping Anne Sexton. Deirdre lives at just the right vector of the 1970s women's movement to blame her artistic failure on the brutal oppression of men. Her constant foil is her son, Augusten (Joseph Cross), who irritates her on principle. He's an incipiently gay fussbudget who boils his pocket change because he likes his quarters shiny. When she tires of Augusten, Deirdre farms him out to her psychiatrist, Dr. Finch. He's played by Brian Cox, bathing in an inner glow of self-satisfaction. His serene, wide-mouthed face resembles a scale model version of Jabba the Hut. This monstrously amusing quack seems to have had his routines written by Terry Southern. When fatigued, he retires to his private chamber: a "Masturbatorium," equipped with a box of Kleenex. He practices fortune telling with his bowel movements. Only someone who had lived through the 1970s could possibly give this stuff belief, and of course, they needed an actor who pioneered the role of Hannibal Lecter to get the details right.
The film paints a fairly accurate picture of 1970s craziness, with lines like this, from Deirdre to her son: "Please don't smoke my cigarettes; you have a pack of your own upstairs." Still, I have reservations. It's not the cast: Evan Rachel Wood comes through once again as the go-to girl to play disturbed teens. We get just the right amount of Gwyneth Paltrow as a cracked good girl; Alec Baldwin is solid as an emotionally not-at-home alcoholic. But there's a sitcom-of the-future sheen on the film—maybe it's not TV, but it is HBO. (Director/writer Ryan Murphy is actually from F/X, where he created Nip/Tuck.) One problem is the obtrusive soundtrack of moldy oldies, telling us what to feel. Also, when doing the 1970s, I wish filmmakers could suggest the possible triumph of these crackpot "extended families," rather than assuring us the nuclear family will take the field for keeps. Nobody joins a revolution if they think they're going to be defeated in advance. Considering the mockery it makes of psychiatry, I find it odd that the film brims over with emotions the hero has "owned," as they say. Sometimes you see a film based on memoirs and you wonder what this person's writings looked like before they went to therapy. The ghastly stories of abuse and miseducation seem pre-told and retold. Augusten's lines about longing for a normal childhood sound like breakthroughs he had years after this story happened. Augusten isn't really interesting. Joseph Cross plays the hero as a little avatar of the adult he later became, with his great destiny waiting in the wings. The authentic rage and thoughtlessness of an adolescent seem to have been waylaid.

Running With Scissors (R; 116 min.), directed and written by Ryan Murphy, photographed by Christopher Baffa and starring Annette Bening and Joseph Cross, opens Oct. 27.
Send a letter to the editor about this story.