10.29.08
home | metro silicon valley index | columns | silicon alleys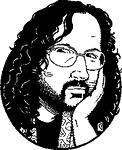 Silicon Alleys
The Valley's First Startup
By Gary Singh
"What is history? An echo of the past in the future; a reflex from the future on the past."
—Victor Hugo
WHEN people yak about the beginnings of Silicon Valley, a few component parts usually enter the conversation: Hewlett-Packard, Stanford Industrial Park, Varian Associates, Lockheed, Fairchild, etc. When it comes to the medium of radio, people usually begin with Lee de Forest, who invented the vacuum tube amplifier in Palo Alto around 1912 or Charles Herrold, who basically started the first radio broadcasting station out of San Jose in 1909.
But what truly makes history a rocking subject to study—no matter what part of the social static you may be from—are the forgotten stories, the failures and those individuals whose contributions have long since been overlooked. Once such story is that of Mr. Arthur E. Bessey of Sunnyvale, the subject of a brand new DVD documentary, Echo of the Future: A Tale of Sunnyvale, available at the new Sunnyvale Heritage Park Museum. Bessey, a Canadian immigrant, was perhaps the first person to attempt to make a fortune by selling radios in the '20s. As the documentary tells it, Bessey ran a business out of a warehouse at 229 N. Sunnyvale Avenue, aptly called "The Radio Shop," and manufactured 150 Echophone radio sets per day. One can say that his building was the first mass-production Silicon Valley tech factory and you can still occasionally find these machines on eBay. Some of them actually still work. Yet, Bessey eventually lost it all—his father, his son, his business and his place in history. He rode the first Silicon Valley boom-bust cycle and this DVD tells his story. It is an amazing yarn.
Written and directed by Ben Koning, and based on exhaustive research by the recently deceased Jack Rowe, Echo of the Future features 48 minutes of dramatization, juxtaposing historical recreation with old newspaper clips and current interviews, placing Bessey's tale in the context of larger Sunnyvale history. (Even more so than San Jose, Sunnyvale is a place known for being forcefully apathetic to its own history.) Mike Malone, the grand old man of Silicon Valley tech journalists and a Sunnyvale native himself, even introduces the film by saying the Radio Shop may indeed be Silicon Valley's first startup.
Arthur Bessey's father, Albert, originally emigrated from St. Catharines, Ontario, when Art was 6 years old. He ran the Jubilee Incubator Company out of Sunnyvale, selling poultry equipment worldwide based on his own patents. As Art grew up, he became a radio enthusiast and in 1920 went into business as the Radio Shop, the first end-user electronics firm in what would later become Silicon Valley. His dad's incubator business provided the startup money, so one can say Bessey the senior was the area's first homegrown high-tech venture capitalist. At its peak, the Radio Shop employed about 125 workers. The Echophone radios themselves were battery-powered desktop-sized units that specialized in receiving broadcasts from afar in an age when home electricity was still a rare luxury and in 1921 they were priced at $120.
But unfortunately for Bessey, home electricity did soon become prevalent, which, combined with superheterodyne technology, put an end to Bessey's radio business. Bessey was never able to modernize beyond his basic design and by 1930 he was done.
There's a humorous side note to all this if you're a San Jose native. Although the Radio Shop flourished in Sunnyvale, it actually began in downtown San Jose, first on San Fernando Street and then in a tiny room in the Bank of Italy Building. It was the first electronics company to be outsourced from San Jose to somewhere else. The history of Silicon Valley startups thus begins with San Jose losing a business to another city. Copies of Echo of the Future are for sale at the Sunnyvale Heritage Park Museum: 408.749.0220. Straight outta the garage: [email protected]
Contact Gary Singh or send a letter to the editor about this story.