10.29.08
home | metro silicon valley index | the arts | books | review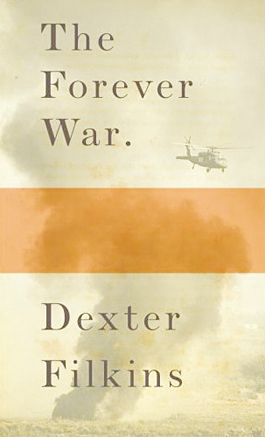 The Forever War
Reviewed by Richard von Busack
THERE are better books about the complex and treacherous Iraq war, books that chart the march of folly, and the valor of the soldiers. There is no better book, though, about the ground view. A man who saw as much as Filkins did could have decayed into contempt and cynicism, into jargon or false hopefulness. Here, instead, is a correspondent who is both unemotional and acutely sensitive, a writer who has the asperity of Didion and the unblinking courage of the young Hemingway. Strangely, there's a sense of time passing in these essays as well as a sense of stasis, a situation beyond anyone's control. One vantage point is Tigris River Park, which the army built as a gesture to the occupied. As it falls apart, it becomes a symbol for everything else blown up, burned or looted in Iraq.
Filkins begins in Afghanistan, where he witnesses sharia punishment, an event he describes in terms that recall Orwell's essay "A Hanging." He gets past police lines and camps out in the ashy ruins of lower Manhattan on the night of Sept. 11, 2001. Then to Iraq, where the early exhilaration turns rapidly into social collapse and multifaceted civil war. Observe the dirgelike poetry of Filkins' roster of 103 different militia groups operating in 2005, including some people called the "Assassination Brigade of the Men of Faith Battalion."
Indispensable here is the essay "Pearland," about the terrible fighting in Fallujah, and the life of the Marine who died helping the author.
The essay "Kill Yourself" has ghastly, Ambrose Bierce–worthy offerings about the trade of suicide bomber. Few would-be martyrs know that their severed head will be likely to fly away intact like a cannonball ("some weird law that only a physicist could explain," Filkins shrugs). Looking at the intact head of an exalted martyr who killed 11 people at prayer in a mosque, he writes, "The most curious aspect of the face was the man's eyebrows. They were raised, as if in surprise. Which struck me as odd, given that he would be the only person who knew ahead of time what was going to happen."
The greatness of this study is that it's neither for the war or against the war, but within the war. One concludes that only those outside the war, civilians, can bring this Forever War to an end. The cost of the author's bearing witness is hidden, though you can find it at the end of the book, where Filkins alludes to his home life: "I lost the person I cared for most. The war didn't get her, it got me." (By Dexter Filkins; Knopf; 370 pages; $25 hardback)
Send a letter to the editor about this story.