10.29.08
home | metro silicon valley index | music & nightlife | preview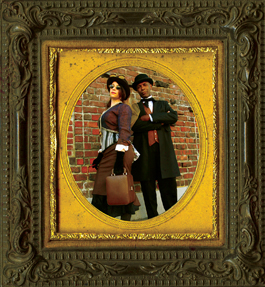 THE PAST REMADE:
Steampunk promoters Ariane Wolfe and Richard Bottoms look to another era for a better tomorrow.
Boiling Point
Steampunk retrofits the technology of the present with the aesthetics of the past. The first-ever convention brings it
By Richard von Busack
AS neologisms go, "steampunk" isn't a pretty one. Stuck with it, the devotees of an imaginary world persist, dreaming of gas-lit laboratories and silent airships. The steampunkers will arrive in Silicon Valley this weekend for Steam Powered, the first-ever steampunk convention. As with all subcults rising, a bit of orientation is necessary for the uninitiated. Steampunk is a movement of ingenious tinkerers who retrofit the gadgets of today with the mechanics of the past, complete with brass widgets, springs and cogs—and dress up in late-Victorian finery while they do it.
Steampunk is, above all, an aesthetic statement. As Captain Robert Brown of the band Abney Park rails, "When the iPod, a white plastic box with one button, is winning awards for beauty, mankind has lost its sense of what beauty is." The unwieldy word is a spin-off from "cyberpunk," which itself was supposed (by author William Gibson) to match the gritty world of city rebels with the technology of cyberspace. There's really not much punk in steampunk; you can do it yourself, but unlike punk not everyone's going to be able to do it. You need a good machine shop or a handy tailor.
Also unlike punk, steampunk isn't fraught with drama. Steampunkers come across as self-mocking aficionados of what might have been the next big thing if director Stephen Norrington of The League of Extraordinary Gentlemen had known what he was doing. An adaptation of Alan Moore and Kevin O'Neill's superhero team of public-domain warriors from the pages of Jules Verne, H. Rider Haggard and "Sax" Rohmer, the movie seemed like a slam dunk but ended up a mess. Still, one misfire isn't enough to sink an idea, and that idea is seductive enough to bring many different kinds of fans together. The steampunk convention represents an industrial revolutionary nexus for writers, role players, clotheshorses and musicians.
The steampunk world combines the aesthetics of Wilde and the innovations f Watt to create a pastime for those who want to dream up a sky full of zeppelins and a land full of Victorian mansions. The valley that gave us both computer technology and the gargantuan Winchester Mystery House is a natural for steampunk.
"This is the first dedicated steampunk convention in the world," says Richard Bottoms, a former web designer deeply involved in promoting steampunk. "I'll be ecstatic if we break even. If we get a thousand people, I'll be ecstatic, but I'm very conservative and won't start celebrating until it's over." Bottoms and Ariane Wolfe, Bottoms' business partner, conceived of the convention less than a half-year ago. Wolfe, a high-tech veteran now fully devoted to promoting steampunk, says she had been a longtime historical re-creator at the Renaissance Faire and the Dickens Faire. She matched these two interests with her love for science fiction, which dated from a class she took in high school. "Steampunk brought both of these interests together."
Wolfe's chosen avatar is a rather more adult character than the Dickens world usually countenanced (saying that, I realize the adult reader knows what line of work Nancy in Oliver Twist was in if you read between the lines). Wolfe explains that "'Miss Skittles' is based on Catherine Walters, a Victorian-era courtesan and 'pretty horse-breaker'" (that is, a high-level courtesan most often seen riding in London's Rotten Row, such as might have caught the eye of Sir Harry Flashman).
Wolfe explains that the imagined history of steampunk is elastic. "It could range from 1830 to 1930 and could include the worlds of Tesla and Edison; different people pick different times. It's a very aesthetic movement, of leather and polished wood and brass fittings, of candles and gaslight. It's opulent."
Boss Tweeds
There have been rooms and entertainments for steampunkers within the circuit of sci-fi and comics conventions, but this first steampunk convention is the breakout for the movement. It's a chance for those who love costumes to reinvent themselves, to wrap themselves in tweed, waistcoats and ankle-length gowns.
At the convention, there will be writing contests, previews of Codemasters' new game Damnation ("Powered by steam, fueled by vengeance"). Everywhere, the beautiful machinery will reanimate boring everyday electronic devices with brass jacketing, polished wood and wiring. The website Boingboing.net serves as an online invention exchange, usually with Jake von Slatt's jewel-box-like modification of common electronic devices.
One of the scheduled guests, Chris Garcia, will discuss the Babbage engine, Charles Babbage's pioneering Victorian computer, finally constructed in 2002 from his plans and currently on display at the Computer History Museum in Mountain View. The 5-ton, 7-foot-high "difference engine" is one of the most beautiful machines ever made, although it never got off the drawing board in Babbage's lifetime. Its gears and servos calculate sums with helices of metal, glittering as they turn, like columns of sparkling water. Never completed, this machine was considered a vast and expensive failure in its day; the inventor is obscure because he was, as the museum claims, "a rotten publicist" as well as being the very image of the cranky, suspicious inventor.
William Gibson and Bruce Sterling's celebrated sci-fi novel The Difference Engine describes a parallel world where Babbage's mechanical computer was mass produced, and where so-called "clackers" (analogous to today's hackers) game the Victorian world of information sciences.
Air Pirates
The centerpiece of the convention will be a performance on Nov. 1 at the San Jose Civic Auditorium by the Seattle band Abney Park, which gets its name from a Victorian enclave in London. Captain Robert Brown explains: "There is a nature reserve in London near where I went to school that is build on an old graveyard. It's everything you want an old graveyard to be: tombstones, weeping angels and ivy-swallowing old crypts."
Abney Park's fantasy air-pirate motif even includes an actual zeppelin ride out of Moffett Field on Oct. 30.
Robert tells me, "We will be launching the first commercial airship flight in 70 years, in the biggest zeppelin in the world! And the pilot is the first female zeppelin pilot ever. We'll even play a few songs for the passengers during their flight. We'll be doing some of our original music, like our 'Airship Pirate,' but also some old Victorian songs we dug up, like the 1906 song 'Take Me Up in Your Airship, Willie,' and 'Come, Josephine, in my Flying Machine.'"
When the pilot in question, Kate Board, takes the band and some other passengers up for a float around the bay, Abney Park will likely be the first live musicians playing aboard a zep in decades—maybe the first ever, except for whoever played the aluminum piano on the Hindenburg. (Mentioning the death ship, one needs to note also the 400,000 passengers who survived the age of airship travel during the 1930s. Incidentally, the craft in question, the Airship Ventures Zeppelin, will be wintering in the Bay Area and carrying out a number of commercial "flightseeing" trips. Watch the skies.)
As for Abney Park's music, Captain Robert elaborates: "It's not bare and minimal. It's not industrial or mass marketable. It's violins, guitars, mandolins, keyboards, accordions; it's Gypsy beats and belly-dance grooves. And in true steampunk style, it doesn't take itself too seriously."
It's literate, too, which is what Abney Park has in common with Tchaikovsky, having adapted E.T.A. Hoffmann into a gothic waltz. Robert notes that the tune "Herr Drosselmeyer's Doll" was "written by our Magdalene Veen, based on the story of the toymaker and his mechanical ballerina from The Nutcracker. Finn Von Claret dances on pointe to this during our live shows, to bring this story to life."
Aether Or ...
Also on hand at the convention is Greg Broadmore of the New Zealand special-effects house Weta (The Lord of the Rings and more), creator of Dr. Grordbort's Infallible Aether Oscillators and other Edwardian-age hypothetical deadly weapons, as popularized in the book Doctor Grordbort's Contrapulatronic Dingus Directory
Grordbort (in reality artist Greg Broadmore) is in the business of creating an armory of imaginary Jules Vernean weapons, which have been wrought into real collectibles. Some sample prose, in the Sears Catalog–like advertisement in the Dingus Directory, for a most useful gadget known as the Goliathon 800 Moonhater Death Ray:
Since the dawn of time, Man has gazed wearily with fear and contempt into the cosmos. One luminescent beacon in particular has looked back, chiding and heckling us like a giant white space jerk, the Moon. Now, thanks to the ingenious contrivers at Goliathon, we have at our disposal a means of heckling back and then some!
I wondered what drew Hughes to the aesthetic of steampunk. Was there much left of the Industrial Revolution's skeleton in New Zealand—eldritch factories, cyclopean power plants, that sort of thing?
She replied by email: "New Zealand does have some old factories, mines and dams that have become dilapidated and lost. I have friends that love to go hunting for them. I used to love exploring old buildings like that. There are some cool old steam boilers half-buried out in the forest out of the city. And of course, [there are] old naval gun bunkers lining the hills of Wellington. I love old tech grown over in the bush, real lost-world stuff."
As for "steampunk: itself, Hughes doesn't reject the term. "That's an external label, but one that I have no issues with. It certainly embodies the style of design that I've used for these ray guns. It's an overused term for sure, and it doesn't necessarily fit the loose time period I've set the world in, but it does exemplify the sort of anachronistic design style of the ray guns and all the contraptions of Dr. Grordbort's universe."
Wild Westerns
Richard Bottoms' fascination with steampunk evolves from his career in social networking engineering. The mainspring for Bottoms' interest in the retro-future comes from an early brush with fantasy: "I'm 53 and old enough to remember the original Wild Wild West on TV," he says. "I saw the first episode with Victor Buono, and don't get me started about the movie."
"I thought Kenneth Branagh was good ... ," I say weakly.
"I'd have rather seen him in Henry V again," Bottoms answers.
There was an instant of silence as we both recalled that steam-powered disappointment of a movie. As Will Smith will, the A-list actor drowsed through his part, a role originated by the turbulent Robert Conrad: James West, the clockwork-gadgeted James Bond of the Old West, helped out by sidekick Artemus Gordon.
The TV show offered an important moral lesson to youth: Just because you're the world's most brilliant midget and you invent atomic power and interdimensional rays, it still doesn't mean you're too smart to be hornswoggled by Ross Martin wearing a fright wig.
In all seriousness, the TV show provides sturdy entertainment. Malign if diminutive master villain "Dr. Miguelito Quixote Loveless" (played by Michael Dunn) was a patron saint of reconquista. As his family had been cheated out of their rancho land by the Americans, he was a rebel against the United States. In 10 episodes, West's arch-nemesis concocted ever larger schemes. Loveless was one of the key chimeras of TV's greatest era. Loveless' and West's inventions live on in the retro-futuristic detritus of steampunk.
And maybe Loveless wasn't too far off track. Bottoms says, "Unlike light sabers, we can do the tech, and it really exists; these clockwork objects might have existed."
Steampunk creates a welcoming and polite scene, unlike some gatherings of gamers and comic book fans that could be mentioned.
"Some of these fan conventions include people who aren't all that social," Bottoms admits. "Steampunk is especially welcoming for women."
"I guess that's true," Wolfe adds when I ask her about it. "I haven't had as much experience with gamers and sci-fi conventions, and I'm one of those women who insist on being treated equally. I have noticed that steampunk attracts a lot of women; the Victorian characters and inventors—they can be vivacious independent women. It's fun to be able to get that into a historical character."
Bottoms' master plan is to expand to some brick-and-mortar stores in Vallejo, a city with Victorian buildings and empty retail space. He plans to open the "Dexter Garvey Emporium," named after his steampunk character; what will start out as a store selling Victorian and Edwardian clothes may be parlayed into a nightclub space, perhaps to be called "V for Vallejo" in honor of Alan Moore, one of the household gods of steampunk.
"The city is bankrupt, and they've told us they can't give us any tax breaks, but there's a renovated theater, a convention center and huge ball rooms; were thinking we might be able to get it in around 18 months."
In addition to working on an upcoming Ringworld Convention for fans of science fiction author Larry Niven, Bottoms is also planning what he calls "the first steampunk movie," a variation of Shaw's Pygmalion with an overlay of a serial-killer story; director Pearry Teo and actor Anthony Stewart Head are both on Bottoms' wish list.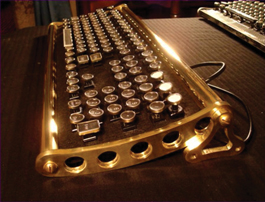 IN THE KEY OF BRASS: Jake von Slatt of the Steampunk Workshop turns the mundane into the marvelous.
Carbide Visions
Ultimately, this first steampunk convention may be nothing more than a great get-together of artists, artisans and hobbyists, showing off their hardware and having a boilermaker or two.
The elaborate toys they will display are irresistible. One vision of a plausible past-future includes the Justice League of America as they might have looked years ago—or Green Lantern with a railroad brakeman's carbide lamp. Steampunk artists have composed such figurines as a Darth Vader whose mechanical shell is augmented with pulleys and servos.
Captain Robert figures that steampunk's goal is to promote a handmade alternative to the age of mechanical reproduction: "Steampunk is modern culture's obvious reaction to how ugly the world turned when 'mass production to maximize profits' became the No. 1 goal of people who once called themselves artists. Once upon a time, artists, artisans and craftsmen made the things of man. Now they are made by product designers and marketing teams, and then modified and simplified by accountants and lawyers.
"This resulted in independent beauty leaving the world, and been replaced with beige plastic boxes, and T-shirts with corporate logos: unless you're one of us, odds are you're wearing somebody's corporate logo right now."
Robert concludes, "Steampunk is the counterculture to rebel against that. Simple is not equal to beauty. Minimal was an aesthetic designed to maximize profit. A waterfall is not simple. A rainbow is not simple. Compare a steampunk mouse to a mass-produced one, and you'll see what we mean. Sure, there is no profit in the steampunk version. That's not the point."
Linda Hughes of Weta comments that the appeal of steampunk proves that "a growing number of people love the style and flavor of that Victorian era of technology and fashion. And I can understand why you'd love it. It was an age of extreme invention and technological progress, all packaged up in some tidy-ass suits and gowns."
Even the clothes are part of what make Bottoms a steampunk man; "I look good in those outfits," he says. But he also has a more personal reason for this fantasy life.
"As an African American," Bottoms explains, "I'm interested in that period of about 10 to 15 years, in 1880-something, when the country was on the track that led to the candidacy of Barack Obama. I can see my own character, Prince Dexter Garvey of Liberia, as a person who could fit into this world. It was possible a distant relative of Marcus Garvey could have these adventures among steam-powered vehicles if he had a diplomatic pass."
Certainly, one possible alternative history is the different path America would have taken if the Reconstruction had been a success. Bottoms says, "I was a geek in school in Greenwood, a part of Indianapolis that was one of those 'Don't let the sun set on you' towns. I got beaten up and stuffed into lockers. But now I'm living in California and designing software, so I win."
If there's one thing that steampunk isn't, say its proponents, it's not a great leap backward to an idealized past. Abney Park's Captain Robert notes: "Though we admire Victorian aesthetics, we ignore some of the more repressive parts of the Victorian times. A steampunk woman's place is definitely not in the kitchen—unless she's looking for the rum, or hiding her gunpowder."
You can see the point. Boiler-made power is what makes people drop what they're doing and swoon when a steam locomotive goes by. Those KQED documentaries about duffers who get to take apart puffer-bellies and rebuild them? They're as much a part of my fantasy life as the parts of my fantasy life I'd rather not talk about.
The arc of the age of steam goes back and touches forgotten lore. At the Arts et Métiers museum in Paris, there's a steam-powered engine the first Napoleon used to haul logs; just think, if the emperor could have used it to power colossal robot spiders, we'd all be eating foie gras right now.
Since I was lucky enough to spend some loafing time in Pennsylvania, a state that ought to be annexed by a Steampunk Militia, I have a long attraction to rust and factory sheds. Worship of that fine cyclopean past is part of my own general sadness about industrial decline.
Might the movement have something in common with the fad for wearing bowling shirts, for since-closed blue collar jobs, for long-gone slide-rule-bearing engineers in lab coats, and for those long-dead friendly mechanical men in the logos of defunct manufacturing companies? Tin man, we'll miss you most of all.
This artistic movement celebrates the technology that predates plastic and disposable goods. Workers with keyboards and monitors, weaving a living out of the ether, must be longing for the feel of a 2-foot wrench. What drudge, arching their aching back and wrists over a keyboard, doesn't feel attracted to the kind of superaestheticized toil represented by Lewis Hine's famous 1920 photograph Steamfitter, with its beautifully muscled worker in sleeveless shirt, tightening a bolt on an industrial boiler?
Beyond the Norfolk jackets, Homburgs and ascots, steampunk has nostalgia for iron-clad certainty, for the poetry of smokestacks and red-brick factories in Charles Demuth's paintings, or the consoling whirring of clockwork. Stretch a little bit until you fall out right the window, and steampunk might be considered the aesthetic side of the recent movement to make peace with new nuclear power plants. Atomic power to boil a steam turbine: that's retrofuturism!
The question is, what do you do with it all? Is there any practical application, or is this pastime, like basement trains, a kind of admission that the future has no room for the admirable, homely kind of technology that once worked so well?
STEAM POWERED, THE CALIFORNIA STEAMPUNK CONVENTION takes place Oct. 31–Nov. 2 at the Domain Hotel, 1085 E. El Camino Real, Sunnyvale. BRASSWORKS performs at the Steampunk Ball on Oct. 31 at 8pm at the hotel. ABNEY PARK, PLATFORM ONE, DJ NESHAMAH and DJ ANDERS perform at the PARTY AT THE CENTER OF THE EARTH on Nov. 1 at 8pm at the San Jose Civic Auditorium. See www.steampunkconvention.com for details.
Send a letter to the editor about this story.