10.29.08
home | metro silicon valley index | silicon valley restaurants | review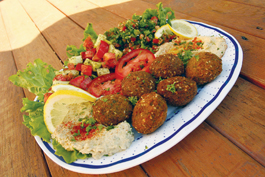 Photograph by Felipe Buitrago
I BELIEVE I CAN FRY: The falafel platter at Gourmet Express.
Legends of The Falafel
A balls-out tour of Silicon Valley
By Stett Holbrook
THE FALAFEL sandwich is one of the world's most perfect foods. It's cheap because it relies on just dried beans (garbanzo and/or fava) fried in oil, pita or lavash bread, a little lettuce and tomato, and a squirt of tahini and/or hot sauce. Because it's made with uncooked, soaked beans, the ingredients store and travel well and are particularly suited to the arid Middle East. Falafels can be made in just a few minutes by street vendors equipped with only a burner to heat the oil, making them the equivalent of a hot dog for fast food convenience. But unlike hot dogs, falafels are good for you. They're vegetarian, but full of protein and other nutrients. Made so well, you forget you're not eating meat. It's just a great sandwich.
Along with kebabs, the falafel is the one of the Middle East's most recognizable and beloved dishes. While the falafel is believed to have originated in Egypt where they're traditionally made with just fava beans, the Middle East at large now lays claim to the fried balls, although Palestinians have argued that the Israelis have tried to appropriate falafels as their own.
In Silicon Valley, Falafel's Drive-In is probably the best know falafel purveyor and is one of the region's true iconic restaurants. The San Jose restaurant has been a local favorite for decades. But the local falafel scene is much bigger than Falafel's Drive-In.
Over the course of two days, I set out on a tour of local falafel makers. I'm happy to report there's plenty of good falafel out there. But first, allow me to lay down my standards. For me, the falafel ball itself should be a study of contrasts. On the outside, the falafel should be fried a dark brown and offer a crispness that yields shatters a satisfying but subtle crunch. Inside, the steamy bean batter should be well seasoned with parsley and spices like coriander and cumin and cooked to a fluffy lightness, yet retain enough moisture to facilitate easy mastication. Too moist, however, and it becomes gummy.
When made into a sandwich, texture is as important as taste. Because a falafel ball is rather starchy, the sandwich can become irredeemably doughy when laid inside the bread unless properly prepared. The addition of crunchy lettuce, juicy tomatoes and a few sliced onions adds nutritional value, but also acts a textural foil to the dry, doughy elements of bread and falafel. Tahini sauce further lubricates and accentuates the different elements. Add too many vegetables and too much tahini sauce and the sandwich becomes a goopy mess and may fall apart in your hands. Not good.
Gourmet Express was my first stop. The Milpitas restaurant is tucked inside a quiet office park right off 880, but was crowded with what appeared to be happy regulars on my visit. In spite of the restaurant's generic name, owner Sahar Harb specializes in the food of her native Palestine.
It's all in the mix," she said of her home-style falafel. "It's a secret."
Her falafels have a thin, but crunchy crust that reveals a moist, aromatic interior. Inside a falafel sandwich ($6.25) are judiciously applied amounts of iceberg lettuce, cucumber, tomato, a little tahini sauce and, at my request, a generous douse of fiery hot sauce, shata in Arabic. There's more of both sauces on the table to add more if you like. They're not kidding around with the hot sauce. It's hot.
My only complaint about what was otherwise an excellent falafel sandwich was the pita bread. It wasn't well toasted and it added a heaviness to the sandwich.
Next up was the House of Falafel in Cupertino (there's also a location in Sunnyvale). House of Falafel was the fastest place I visited. I placed my order and had barely sat down when my sandwich was ready. That means they didn't fry the falafel to order, but judging from the steamy yet still crisp falafels I'm guessing they had just come out of the oil. The sandwich (called a falafel wrap, $4.99) is wrapped in grilled lavash bread. I think lavash is superior to pita because it's thinner and when grilled becomes slightly brittle and adds another textural component to the sandwich. On its own the falafel was a bit dry, but was easy to fix that with the squirt bottles of tahini and hot sauce provided on the table.
A short drive away from the House of Falafel is Jerusalem Restaurant and Deli, a 5-month-old Middle Eastern restaurant and American-style deli located in another hard to find location in a part of Santa Clara's El Camino Real dominated by Korean restaurants. The spotlessly clean restaurant fries its falafels to order. The falafels in the falafel sandwich ($5.99) pack a thick crust and have a pleasant vegetal flavor. The sandwich is made with lavash and lettuce and tomato. The tahini sauce served tableside is particularly good, the addition of which makes for an excellent sandwich.
I admit at this point I was getting a little full, but there was one more place in Sunnyvale I wanted to check out. Robee's Falafel is located in a minimall surrounded by a sea of office complexes. If you work nearby, it's great. For everyone else, it's rather out of the way. But it's worth the trip. The beautiful landscape photographs on the wall are from northern Iraq, but the guy behind the counter told me the falafels are made in the Lebanese style "because everybody in the Middle East says they are the best." The Israelis and Egyptians might have something to say about that. However, Lebanese-style falafels generally include fava and garbanzo beans, but Robee's are made with just garbanzos.
Anyway, Robee's falafel wrap ($5.49) was about as long as my forearm and wrapped in grilled lavash. The big falafel balls are crisp and speckled with sesame seeds but soft and moist. Inside, the sandwich is filled lettuce, tomato, red onions, and sliced pepperoncino peppers and a generous slather of hummus. The table tahini sauce is very good, too. The blend of creamy, crispy and soft made for a great mix of flavors and textures, a delicious end to my mini falafel festival.
---
GOURMET EXPRESS
463 Valley Way, Milpitas
408.263.8388