10.29.08
home | metro silicon valley index | movies | current reviews | dvd review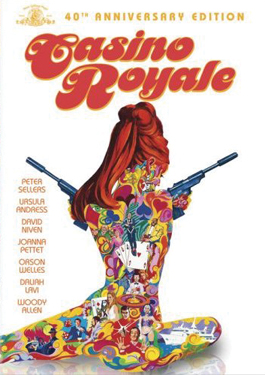 The Real Casino Royale
Before Daniel Craig, there was David Niven
Reviewed by Richard von Busack
FACING A SHADOWY threat known as "Dr. Noah," the spy bureaus of the world call upon the aging, retired secret agent James Bond (David Niven) to help them. Bond's gambit is to rename nearly a dozen agents "James Bond" in hopes of throwing the villains off the scent. Beautiful assassins from Berlin to Scotland to France try to make sense of this gesture. Meanwhile, the actual plot of Ian Fleming's first novel is artfully concealed in the bric-a-brac: ultimately, there's a lethal card game between the debonair gambler for hire Evelyn Tremble (Peter Sellers) and a sinister moneyman called Le Chiffre (Orson Welles).
The mad 1967 pop-art Casino Royale is an exquisite corpse in both senses of the phrase. First, it's a good-looking fiasco that left industry types (such as UA exec David Picker, interviewed for this disc) declaring the project "a terrible mistake." It featured a bipolar star who walked off the set, and its plot was rewritten several times over: as farce, as "psychedelic comedy" and as serious romance. Whatever Casino Royale was, it wasn't a flop, though, as it scored $41 million at the box office.
Secondly, Casino Royale was an exquisite corpse in the sense of the Surrealist exercise of the same name, wherein a group of artists draw on a folded piece of paper, without seeing what the artists before them had drawn. An irresolute producer (the superagent Charles Feldman) used favors and gambling debts to call together five different credited directors. One of these directors, Joseph McGrath, says that Feldman was making a comedy while having "no sense of humor"; writer and co-star (as Dr. Noah/Jimmy Body) Woody Allen called Feldman "a butcher" because of the endless rewriting.
What's surprising is how watchable Casino Royale is. It perfectly reflects its circusy times. The film's many charms include Pink Panther animator Richard Williams' title sequence and the resounding brass of Burt Bacharach's soundtrack, especially the catchy hit "The Look of Love." The vintage whimpering by Allen is still quotable. ("They called Einstein crazy too!" "No one ever called Einstein crazy!" "Well, they would have if he carried on like this.")
Several wonderfully glamorous actresses prowl around. These include the Teutonic goddess Ursula Andress, the fascinating Joanna Pettet doing a Michael Powell–style exotica dance routine and a young and innocent "Jacky" Bisset as, sadly, "Miss Goodthighs." Lastly, there's the rather stunning Israeli Daliah Lavi, one of the 1960s cinema's most dedicated bouffant-bearers; happily, all that hairspray didn't injure her, and she looks marvelous today in the disc's extras.
New features on this 40th (plus one) anniversary package include a commentary track by the world-class Bond expert Stephen Jay Rubin and the hard-working film historian John Cork. The disc also features some 25 minutes of documentary on the making of this uniquely mad film with director Val Guest, McGrath, Bisset, Pettet and others.
CASINO ROYALE; one disc; Sony; $19.98
Click Here to Talk About Movies at Metro's New Blog
Send a letter to the editor about this story.