10.29.08
home | metro silicon valley index | movies | current reviews | dvd review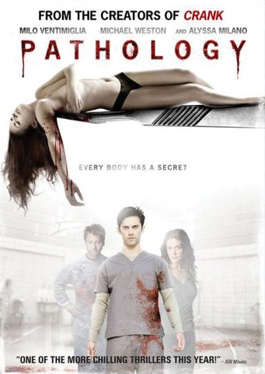 Pathology
One disc; MGM; $27.98
Reviewed by Michael S. Gant
Judging from the behavior of the doctors in training in Pathology, universal health care faces more than just monetary hurdles. Milo Ventimiglia plays whiz-kid medical grad Ted Grey, who goes to work at a teaching morgue. Turns out his obstreperous fellow cadaver botherers get their kicks by concocting "perfect" murders of the marginal and unworthy, and then challenging the group to figure out how they did it (or maybe they are training for jobs as script doctors on C.S.I.). At first, Ted looks to be the moral center of the film, but soon he's into the deadly game with the same fervor as his main competitor, Dr. Gallo (as in the Italian slasher genre giallo), played with manic conviction by Michael Weston. While Ted maintains a long-distance relationship with his fiancee (Alyssa Milano, perhaps in homage to her role as MCI's 1-800-COLLECT shill Eva Savalot, literally phones in her part), he initiates the canoodling process with Gall's girl, Juliette (Lauren Lee Smith). Eventually, the doctors turn on each other (kinda like McCain campaign advisers) in a basement autopsy room that no one else in the facility knows anything about. The plot is an excuse for some gruesome dissection scenes (look out for the pair of tree pruners used to crack through rib cages), but German director Marc Schoelermann earns bonus points for gratuitous lesbian medical-student sex. The extras include an interview with a real pathologist, some outtakes and commentary tracks by the director and producers/writers.
Click Here to Talk About Movies at Metro's New Blog
Send a letter to the editor about this story.