10.29.08
home | metro silicon valley index | movies | current reviews | dvd review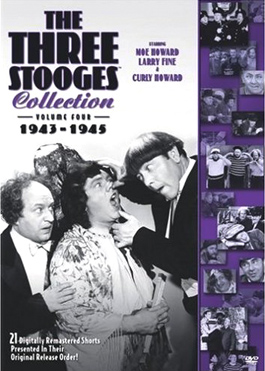 The Three Stooges Collection, Vol. 4: 1943–1945
Two discs; Sony Pictures; $24.96
Reviewed by Richard von Busack
(Richard Burton voice): "So you want to know about the war, do you? 1943–45: The pie of doom, hurled by the mailed fist of the Allies, sailed inexorably, soon to cover the face of the Third Reich in dripping custard. Meanwhile, the tail of the alley cat that was Mussolini twitched nervously under the rails of the RAF's rocking chair, with the pinch of destiny soon to come. And in a California movie studio, three aging Jewish physical comedians exposed themselves to grave discomfort as their part of the war effort. Approaching the end of his long painful road, Curly Howard took ever more punishment in honor of a world that was committing mayhem on itself." It is said that 1942's They Stooge to Conga is the most violence-filled two-reeler the Stooges ever did. In any case, it's the only Three Stooges short named in honor of Oliver Goldsmith. Calling themselves electricians, the accident-prone Stooges expose themselves to all the dangers of the craft, including the famous utility pole climber's spiked-boots to the eyes. Much graver is 1943's Higher Than a Kite, in which the three injure themselves with the contents of an automobile garage; this is maybe the first time I ever watched a Stooges short and exclaimed, "Whoa!" Propelled by the back wheel of a car, Moe slides into a jumbo piece of pipe; crowbar and sledgehammer fail to free him, and then Larry suggests, "Hey, maybe if we heat it up, it'll slip off." Eventually, all three hide in a blockbuster bomb and are dropped over Germany, to the consternation of "Marshall Boring" (Vernon Dent). The other entries in this 21-shorts collection include violence to vaudeville animals (Larry and Curly in a stupid cloth horse suit); groanworthy prop signs ("Gypsum Good Antiques"); Larry dressed as Carmen Miranda, vamping Boring ("I love every chin on your face"); and Curly seduced by a circus bearded lady ("Don't be shy, my little bald eagle").
Click Here to Talk About Movies at Metro's New Blog
Send a letter to the editor about this story.