10.29.08
home | metro silicon valley index | movies | current reviews | dvd review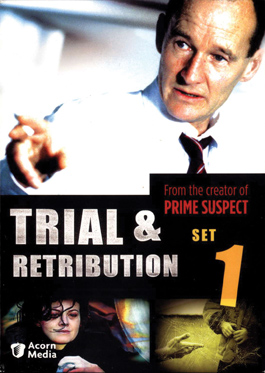 Trial & Retribution Set 1
Four discs; Acorn Media; $59.99
Reviewed by Michael S. Gant
Writer/producer Lynda La Plante created the superlative Helen Mirren police series Prime Suspect, so it's no surprise to learn that she is a one-woman police-procedural industry on British TV. This set collects the first four episodes (the broadcasts began in 1997) of Trial & Retribution, a long-running English take on America's Law & Order. Each two-part show (clocking in at about three hours and 20 minutes) follows a single case from discovery of bodies, through searches, arrests, interrogations and bewigged barristers in court. The cases, as in Law & Order: Special Victims Unit, lean heavily toward nasty crimes like torture and child abduction, but in only one instance does the show dwell unnecessarily on the pornography of violence. Leading the police are Det. Supt. Michael Walker (short, bald and very testy David Hayman) and Det. Insp. Pat North (rangy, slightly disheveled Kate Buffery), who begin as wary antagonists but slowly develop a lot more than a working relationship. The stories all toss up a wide variety of suspects, but eventually narrow down to a single, magnetic psychopath. Rhys Ifans (Notting Hill) projects a compelling combination of creepiness and vulnerability as a twitchy alcoholic squatting in a bleak apartment complex where a little girl has gone missing. Even better is Richard Grant (Withnail & I, The Player, Gosford Park) as a nosy wine snob who keeps calling the police and sending bottled bribes to Pat—he's so smarmy you wouldn't want to be around him even if he was innocent. The cases all end up at trial, where the differences between American and British legal tactics can be confusing at times; Simon Callow (Four Weddings and a Funeral) stands out as an egotistical lawyer with an insinuating line of questioning. The show's one questionable innovation is a surfeit of split-screen setups. Sometimes the technique allows for close scrutiny of characters who might not fit in a long shot, but mostly the dividing up of the screen only induces squinting. La Plante is interviewed in an extra.
Click Here to Talk About Movies at Metro's New Blog
Send a letter to the editor about this story.