10.29.08
home | metro silicon valley index | movies | current reviews | film review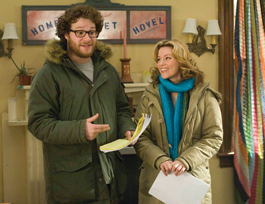 Darren Michaels/©2008 TWC
OVERDRESSED: Seth Rogan and Elizabeth Banks are an unlikely pair of adult film stars in 'Zack and Miri Make a Porno.'
Porn Again
Kevin Smith brings romance to raunch in 'Zack and Miri Make a Porno'
By Richard von Busack
JUDD APATOW has made a fortune with the comedy of the "pickle shot"—John Waters says that was the slang for full-frontal male nudity in the adult films of the 1960s. But director/writer Kevin Smith's utterly raunchy yet totally sweet Zach and Miri Make a Porno is better than anything in the Apatow field. Likely, Apatow is still going to be giving his actresses very little to do 10 years from now in slob-meets-babe comedies to come. By contrast, the constant bantering of Smith's characters over the years, the dirty-joke-making and question-asking—all now seem like a long fact-finding mission. Smith once used to focus on amusingly hopeless dickwielders, but now Smith has made a movie where Elizabeth Banks gets the most close-ups she has ever enjoyed in her career. It doesn't even really matter than she is sitting in the bathroom during the romantic finale. (The staging of this scene reminds me of a story about Orson Welles, who was suffering in love for a beautiful actress. A friend, offering Welles some aversion therapy, said, "Try imagining her sitting on a toilet picking her nose." Welles exclaimed: "That's the most enchanting vision I can imagine!")
Seth Rogan—Rodney Dangerfield reincarnated as a teddy bear—plays Zack, a thoroughgoing loser and Pennsylvanian barista. His long-term housemate and BFF, Miri (Banks), drags him to their 10th high school reunion. While they try to get drunk and pick up some new talent, Zack meets the class king (Brandon Routh), who lives in L.A. and is lovers with the gay porn star Brandon St. Randy (Justin Long). This chance meeting and some other happenstance—a cruel snapshot taken of Miri's butt, uploaded to the Internet by punk kids at the coffee shop—give the two slackers an idea. They could pay their overdue utility bills by becoming porn stars, despite the fact that they've never slept together.
This crackpot scheme is financed by their co-worker Delaney (Craig Robinson honoring one of the great pieces of comic acting of the 1980s: Frank McRae in Used Cars). A variety of locals turn up for the casting call: Bubbles (Traci Lords), the sleazy Lester (Jason Mewes, never better) and Stacey, a chirpy stripper with no objection to anal scenes. Stacey is played by Katie Morgan, a real-life porn actress, like Lords. Whether it's her comfort with this kind of material, the director or Mewes, Morgan has a naughty glitter to her that reminds you of the teasing starlets of 1960s cinema. Smith gets this picture done without exploiting the actors. It's a dirty farce, and yet its faith in true love doesn't seem hypocritical. The frost and forlornness of the small-town surroundings set off Banks, excellent in this girl-next-door role. Even though Smith goes below the belt, the movie has something like a Lubitsch spirit to it. Brandon St. Randy claims that one of his stroke films was "a reimagining" of Glengarry Glen Ross, but it strikes me that this movie is a kind of reimagining of Lubitsch's The Shop Around the Corner. You can feel the power of a century of romantic movies comedies flowing through it.

ZACK AND MIRI MAKE A PORNO (R; 101 min.), directed and written by Kevin Smith, photographed by David Klein and starring Seth Rogan and Elizabeth Banks, opens Oct. 31.
Click Here to Talk About Movies at Metro's New Blog
Send a letter to the editor about this story.