10.29.08
home | metro silicon valley index | music & nightlife | band review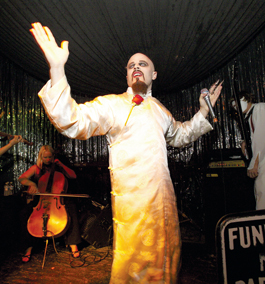 IF IT BLEEDS, IT LEADS:
No one was harmed in the procuring of Kung Fu Vampire's nutritious beverage.
Creature of The Night
San Jose's Kung Fu Vampire steps into the light with 'Dead Sexy'
By Garrett Wheeler
ONE need only glance at the Kung Fu Vampire to know why, a few years back, a woman at 7-Eleven turned to him and said, very seriously: "You look like the devil." Black eyes, white skin, fangs—eerie, even to the most secular observers. And the Kung Fu Vampire walks among us. His presence in the South Bay is marked by years of performance within the hip-hop community, where he faithfully serves up-and-coming rappers by presiding over the time-honored South Bay Hip Hop showcase. His band, too, is a staple in the thriving local music scene, having establishing itself as one of the most notable and certainly the most stunning hip-hop groups in San Jose. The band, which also plays under the name Kung Fu Vampire, routinely draws capacity crowds even though they only play a few local gigs a year: an annual Friday the 13th show at the Blank Club, and of course, a concert on Halloween.
So who is this dark creature of the night, this Transylvanian man of mystery? Few people are attuned to the Vampire's true identity, a feature of his persona that helps mask the character within. And like many individuals disguised by facade, the Kung Fu Vampire is well aware of his duel roles. "On stage, I want to be scary, dark, feared," says the Vampire, "but at home, the truth is that I'm a very healthy, happy, loving guy. I've had a lot of dark things happen in my life that make me who I am today, and if I didn't present that scary side and tap into that darkness in a positive way, it might come out during the day with friends and family. My outlet is performing—that's what keeps me happy."
Reflecting on the Jekyll and Hyde–like oppositions that exist in his life, Kung Fu Vampire emphasizes the important role that music has played in his life. He started breakdancing at age 6, teaching himself to rap and sing soon after. At age 12, his aunt began taking him to shows—he remembers seeing Metallica play at a small club in San Francisco years before they became international rock-gods. And it was his aunt, the Vampire recalls, who inadvertently introduced him to a vaguely gothic style of dress. "She was always dressed like a weirdo, draped in black, with pink Converse and strange hair—I didn't see too many people dressed like her. Maybe my darkness came from that a little bit too."
As for the Vampire bit, that came much later, when the future Kung Fu Vampire sat with friends in his Japanese garden back-yard, "just being stoners" and devising a hypothetical movie that would take place there—a kung fu vampire movie.
"My homie looked at me and said, 'Dude, you're the Kung Fu Vampire.' And it fit with so many elements in my life. I have dark eyes; I don't go in the sun—I'd been told by people that I look like a vampire. That, with my love of Japanese culture, it just became my character."
Ditching the movie idea, the newly christened Kung Fu Vampire decided to put an end to his fledging band at the time, LSP, and start fresh. Like a soldier of the night, the Vampire began hunting for band members. His first acquisition was drummer Dave West, followed by a cello player who would adopt the name Miss Fortune. "From the start, my vision was to be this big, orchestrated gothic hip-hop group," says the Vampire. "I pictured me as this dark, crazy character, standing on top of a moon-lit Oak Hill Cemetery, in front of the mausoleum, performing with an orchestra of zombied-out females. I wanted the music to be huge, like hard goth but without guitars—just an instrumental orchestra with cellos, violins and trombones playing in superminor, diminished keys. I wanted it to be scary. I never really thought I could it happen, but its happening now."
Indeed, the massive, goth-influenced hip-hop of Kung Fu Vampire's dreams has become reality. A twisting, almost vaudevillian collage of sound, interwoven with the Vampire's rousing vocals, breathes life into the virtually unexplored genre. The group's newest LP, Dead Sexy, is a 13-song collection of material compiled over four years. The album, according to the Vampire, "took forever" to finish, but it contains a number of collaborations that should intrigue a wide range of hip-hop fans. Dem Hoodstarz, Spice One, San Quin and Z-Man all found their way onto the LP, along with local rappers Grunge Toefu, Lucky Lucianni, Doujah Lounge and Rock. "Dead Sexy has some hits on it, and it doesn't have any filler. We also threw a couple live tracks on it," says Kung Fu Vampire, "just to let people hear what we sound like live. I feel proud of it."
KUNG FU VAMPIRE performs on Friday (Oct. 31) at 9pm at VooDoo Lounge, 14 S. Second St., San Jose. Tickets are $13. (408.286.VODO)
Send a letter to the editor about this story.