10.29.08
home | metro silicon valley index | music & nightlife | band review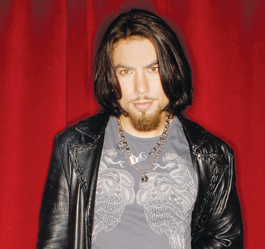 Dave Navarro
By Mike Connor
IN ALMOST any other band besides Jane's Addiction, guitarist Dave Navarro would have stood out as the frontman, even if he wasn't singing. The grandson of a Mexican immigrant and the son of a model, Navarro is blessed with sharp, angular features that betray a certain feminine beauty. His prominently arched eyebrows, though, lend him a devilish look that he accentuates to full effect with a pointy goatee and, oftentimes, dark eye makeup. He's an excellent, versatile guitarist, and can sing like Scott Weiland. Judging by his talk show, Spread TV, and the MTV reality shows chronicling his marriage to Carmen Electra, Navarro is well-spoken and moderately charismatic.
But all of that fades into the peripheral when the frontman of your band is Perry Farrell. The histrionic lead singer of Jane's Addiction was (and still is) a force of nature, able to embody hedonism in most of its ancient grandeur, embellishing it with a sort of urban pagan spiritualism that gave Jane's Addiction its heft. Undoubtedly one of the greatest rock bands of the late '80s and early '90s, Jane's Addiction inspired a cult following that simmered in the Los Angeles rock scene and in suburban basements and dorm rooms all over the country, flaring up in 1991 when it turned into a annual music festival called Lollapalooza, and then fading away as the festival became an institution, shepherded by its founder, Farrell. If Farrell was a star in the celestial sense, Navarro was an interestingly shaped moon.
But Navarro was at the center of it all before Jane's Addiction. Navarro, drummer Stephen Perkins and bassist Eric Avery were all high school friends, and continued working together off and on after Jane's Addiction broke up. He also made waves with his brief tenure with the Red Hot Chili Peppers, which he joined as lead guitarist after John Frusciante left the band. Together they recorded One Hot Minute, the underrated follow-up to the Peppers' triumphant Blood Sugar Sex Magik. Navarro's guitar work is more forceful than Frusciante's, but his presence nevertheless alienated a chunk of their fan base, mostly because a clip of him making out with Anthony Kiedis appeared in the video for "Warped."
After leaving the Chili Peppers, Navarro dabbled in projects of Alanis Morrisette, Marilyn Manson, Trent Reznor, Guns N' Roses and Christina Aguilera before releasing a solo album called Trust No One. Like many rock stars before him (Jimi Hendrix was his original inspiration to play the guitar), Navarro has spent his fair share of time being addicted to one drug or another, and Trust No One sounds like it was written in rehab—often morose, sometimes pretty and rarely flashy, with lots of lyrics and song titles bent toward the task of exorcising demons.
A 2003 Jane's Addiction reunion didn't last long, and now Navarro has time for things like judging modeling contests, directing porn and showing up in cameos all over the place. On Saturday night, he performs at Vivid Nightclub with pop rock rapper J-Mello. Their collaboration works much better than most hip-hop and rock combos, thanks to J-Mello's curious, free-flowing alternative rock bent. It's the second annual R.I.P. (Rock In Pleasure) party celebrating Halloween, so feel free to show up in costume.
DAVE NAVARRO and J-MELLO perform on Saturday (Oct. 27) at 9pm at Vivid, 8 S. First St., San Jose. Tickets are $15. (408.279.4444)
Send a letter to the editor about this story.