10.29.08
home | metro silicon valley index | columns | style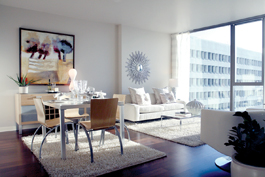 Style
Design Goes to the Dogs and Cats
By Joseph Rosenfeld
SAN JOSE Redevelopment Agency—s downtown vision is coming to fruition—and it's only taken only 28 years. Finally, downtown residential living is on the rise at buildings like Three Sixty Condominium, the 88 and Axis. This steely crop of gleaming glass buildings sets the bar high on aesthetics and amenities. What once was seen as San Jose's future has developed into the present perfect, as the first buyers take possession of their condos and the downtown lifestyle.
When construction of San Jose City Hall was first completed, it was the most forward-looking building in the downtown core, heralding a new era of engineering and aesthetics. Though no downtown structure towers above 300 feet, due to Mineta San Jose Airport's flight path, the best way to meet the needs of a sprawling and still developing city is to build vertically. The addition of these newly built residential structures is a positive development for the cityscape, strengthening a cohesive and sophisticated skyline for everyone's pride and enjoyment.
These bold buildings have high-rise attitudes at midrise sizes, reflecting the area's tech ascendancy. Axis, the first of the three new buildings to be occupied by residents, was designed to provide every condominium with views. The award-winning glass and granite building is crowned with unique lighting features, ensuring the building's prominence in an otherwise egalitarian skyline. The 88 building touts itself as the tallest residential building between San Francisco and Los Angeles and even has an outdoor observation terrace on the 21st floor. It's amazing what can be done with just an acre of land. That's about the parcel size Three Sixty Condominium's 500,000 square feet is built on. Inside will contain some of the swankiest homes for those whose mission is to live large.
The individual homes within these buildings offer amenities that appeal to the modern lifestyle. Many units feature floor to ceiling windows, open kitchens and more square footage dedicated to rooms than to hallways. The units beg for simplicity and to not become cluttered or distract from the sweeping valley views. Even units on lower floors have a cozy feel with views of nearby buildings and treetop greenery. Top quality kitchen cabinetry, appliance packages and bathroom fixtures layer on the luxury. At Axis, top tier units include balconies. And the lushly landscaped pool decks, workout facilities, security staff and concierge services blur the line between high-rise home and high-end hotel.
As this phenomenon is taking place in the 21st century, it has positive consequences for the environment. Each of these vertical developments are making better use of previously developed land, providing high-density housing near public transit and within walking distance of offices, restaurants and services. New owners—empty nesters and professionals alike—moving into these residences are finding common ground and community, with shared interests to live efficiently and fashionably.
I predict success for the development of a downtown lifestyle. Every progressive city—American or otherwise—has a strong mix of architecturally significant residential and commercial properties. Take Chicago, where luxury high-rise living is an art form. San Jose won't have a Lake Shore Drive lined with high-rises, but our downtown core can be filled with great addresses that add the same mystique to San Jose. How the residential landscape develops will directly affect how downtown business and retail further develops. While downtown San Jose is modernizing with the times, these new buildings and their inhabitants will cement it as a great cultural center.
Send a letter to the editor about this story.