10.31.07
home | metro silicon valley index | columns | silicon alleys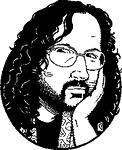 Silicon Alleys
Do the Jitterbook
By Gary Singh
AS I CROSS the threshold, a diligent employee crouches over a computer in the far corner. Mailing envelopes pile up around him on all sides as he fills orders for Old Orchard Books, an online business that Angela and Eric Henze have run for five years now. The eBay orders are flying in and I'm there to pick up a hardback I had snagged for a dollar. I ask if they get a lot of walk-in business. "Yeah, as soon as people find out that we're here, they start coming right over," says Angela, as she scurries off into a back room to track down my order.
Old Orchard Books occupies a nondescript one-story white building right where Grant Avenue dead-ends at the railroad tracks in the industrial backwater of Santa Clara–precisely my kind of stomping ground. "It was the best we could get in Santa Clara," Angela says.
Located right next door to what used to be a coffin-manufacturing business–also my type of tourist spot–Old Orchard occupies 10,000 square feet and boasts an inventory of more than 200,000 new and used books stored on gunmetal shelving. To get there, one embarks on a wayfaring excursion off Lafayette Avenue and then navigates through corrugated shacks, metal refab businesses, litter, abandoned cars and circular barbed-wire.
On the way to Old Orchard I breezed by a huge recycling center after plodding through a path of empty shopping carts that had been discarded and toppled over every which way. Homeless folks had apparently dumped them off onto the sidewalk after doing their business at the recycling plant. Grant Avenue then terminates at the Caltrain tracks, providing one with a picturesque panoramic view rivaling that of any postcard at the Mineta San Jose International Airport. If you want to risk getting creamed by a passing train, you can even waltz from the street directly onto the tracks, as no barricades exist to stop you. Staring across those tracks, you get a wonderful glimpse of what looks like a long lost forgotten junkyard where old graffiti-covered panel wagons have gone to die.
"That's the other side of the tracks," Angela told me. "We don't know what's over there."
What Old Orchard Books does know, however, is that many Santa Clara University students were growing frustrated with the campus bookstore's prices, so they started showing up at Old Orchard's warehouse and asking if they stocked textbooks. The result? To complement Old Orchard's online operation, Angela and Michael launched another website last week: Jitterbook.com, a place where SCU students can exchange their books with a portion of the proceeds going to Conservation International, one of the leading charities for global warming. Their mission is "to allow students to get a great price when they sell or buy used textbooks and walk away knowing they've done something good for the world." Angela referred to university bookstore businesses as "Big Brother" operations, which is ironic, as once you go to Orchard Books' website, you're asked to check out their inventory on Amazon. I did, and the first book that appeared was a hardback copy of Barry Clifford's Return to Treasure Island and the Search for Captain Kidd for a whopping 59 cents.
Visiting Old Orchard Books is pretty much like returning to a long lost island amidst the industrial wasteland anyway. As you work your way through the trail of tipped-over shopping carts and the throw-away goods rejected by the recycling center, you just feel like a seafaring pirate in search of some long lost treasure, as the cheap books await you. I look forward to many a purchase from Old Orchard.
Contact Gary Singh or send a letter to the editor about this story.