10.31.07
home | metro silicon valley index | the arts | books | review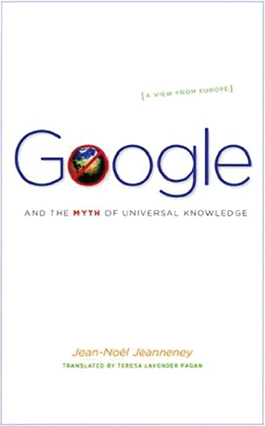 Google and the Myth of Universal Knowledge:
A View From Europe
Review by Michael S. Gant
I love Google Book Search; it offers a great way to track down a stray reference to a line of 19th-century poetry or a passage from a classic novel. But I also find the process frustrating in its lack of transparency. Just what books are being scanned by those drones at Stanford and University of Michigan? Why do the search results come back in capricious order that can't be sorted by date, language, publisher, etc.? In his short polemic, Google and the Myth of Universal Knowledge, Jean-NoŽl Jeanneney, president of France's BibliothŤque nationale, expresses a wide range of European concerns about Google's initiative to digitize the world's printed heritage. Europeans, Jeanneney writes, fear that Google's exclusivity arrangement set a dangerous precedent by "conferring a public property to a private organization." He also notes a fear that Google's partnerships with American and English libraries will favor English over other languages. Another worry is that Google's full-speed-ahead approach ignores the need to organize scanned books and provide "metadata," such as indexing and annotation. Some of Jeanneney's hand-wringing sounds like jealousy; Google got up and running without a lot of E.U. bureaucratic delay. But the author makes an important point often overlooked in American debates. Europeans do not blindly follow the invisible hand of the market. "We should ... not go into raptures over the abilities of capitalism," Jeanneney writes, "alone to create the best of all possible worlds." Cultural works are not, after all, "just another piece of merchandise," and government funding and regulation are vital. The message is getting through. Last week, several major libraries announced that they are spurning Google's advances and choosing instead to have their collections scanned by the nonprofit Open Content Alliance.
(By Jean-NoŽl Jeanneney; University of Chicago Press; 92 pages; $11 paper)
Send a letter to the editor about this story.