10.31.07
home | metro silicon valley index | movies | current reviews | film review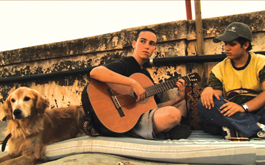 Dog Days: The Israeli film 'Someone to Run With,' showing Nov. 4, examines the life of Jerusalem's lost children.
Drama and Docs
'Six Days: June 1967' highlights this week's offerings at the San Jose Jewish Film Festival
By Richard von Busack
THE SAN JOSE JEWISH FILM FESTIVAL continues this week with Wednesday and Sunday screenings. On Oct. 31, 7:30pm: Love to Hide. This glossy 2006 soap opera set in Vichy France features a gay paragon (Bruno Todeschini) suffering a fate worse than death after rescuing a Jewish girl (Louise Monot) he once kissed in a brief outbreak of straightness. Unfortunately, he has an evil brother who turns him over to the Gestapo. The cast seems to have been picked for looking good with their shirts off, so it's the villains who grab our attention. An actor rejoicing in the name Olivier Saladin gets to play a grinning copper, as rotten as tainted camembert; as the "Chef de [labor] Camp," Yuli Toshev seems to be having a marvelous time mistreating the prisoners.
Nov. 4, 5:30pm: Six Days: June 1967. The best documentary on Israeli history that I've ever seen. Ilan Ziv's scrupulously nonpartisan account of the war is much different than the way it was understood in the United States, where Time, Life and even Mad magazine pronounced it a triumph of a plucky little country against overwhelming forces. It was, instead—as Ariel Sharon admits onscreen—a war of choice, as avoidable as World War I.
As the Israeli army knew, they had the outstanding advantage over the weak armies of Egypt, Syria and Jordan. After flattening Egypt's air force and scattering her barefoot troops, Gen. Dayan's brilliant plotting kept the Israeli public out of the loop, pushing aside the civilians who wanted peace. In the Arab lands, lying media pumped up the war and assured the public the Muslim forces were triumphing. The first casualties were Prime Minister/Defense Minister Levi Eshkol and his assistant Yitzhak Rabin (who fell to a badly timed nervous breakdown under the stress). From retirement, Israel's founder, David Ben-Gurion, urged diplomacy ("Since when does Israel make pre-emptive strikes?"). The great powers—the USSR's Kosygin, a patron of Syria, and LBJ, a duck in the process of laming himself—operated behind the scenes, nearly inflating this skirmish into World War III.
Israel triumphed in the dictionary example of the catastrophe of success. The war hawks had their way, capturing Jerusalem and bulldozing a 700-year-oldArab neighborhood to make a plaza for the Wailing Wall. They also encompassed territory almost impossible to pacify and wrought the kind of bitterness that will last for generations. The roster of interviewees is startling; they include Robert McNamara, Abba Eban, Dayan's spokesman Michael Bar-Zohar, Said Al Rifa, personal secretary to King Hussein of Jordan, Nasser's secretary Abdel Magid Farid, Gen. Shlomo Gazit (the head of Israeli intelligence) and several Soviet officers who were almost called into battle. Essential viewing for understanding the Mideast situation today. On the same day: Cardboard Squares (1pm), about a family coping with the death of several members in war; Someone to Run With (3pm), the story of a runaway teen; and Discovery of Heaven (5pm), a drama about an angel wrangling with strong-minded humans, based on Harry Mulisch's novel.

THE SAN JOSE JEWISH FILM FESTIVAL runs through Nov. 14 at Camera 12 in San Jose. See www.sjjff.org for complete details. Tickets are $8.50–$11. (800.838.3006) (Full disclosure: Metro is one of the sponsors of the festival.)
Send a letter to the editor about this story.