10.31.07
home | metro silicon valley index | movies | current reviews | film review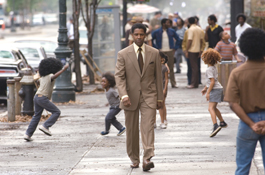 Photograph by David Lee
HARLEM STRIDE: Denzel Washington's Frank Lucas controls the drugs and the streets in 'American Gangster.'
Hoods
Even a drug dealer can succeed if he works hard enough in 'American Gangster'
By Richard von Busack
WHEN The Godfather commenced with the phrase "I believe in America," Francis Coppola wanted us to understand the part America had in the creation of a gangster. It was a shocking idea, and equally shocking was the insistence that a gangster could be just a good family man in a bad line of work. Thirty years later, the critique is stale. Someone approaching that idea—especially by stating it as boldly and flatly as it is in the title American Gangster—had better come up with a new angle. Don't look for one here. American Gangster is based on the true story of Frank Lucas (Denzel Washington), the black Harlem drug runner who decided to contract with the Golden Triangle's poppy lords. When cheap and relatively pure heroin plagued Harlem, the crooked NYPD stood aside and took its cut—thus the birth of the DEA. It is the opening salvo of a drug war that's no one's idea of a triumph at this point, not even director Ridley Scott's. The hard work of being a drug cop is all vanity. We can see that from the sorrows of the honest cop Richie Roberts (Russell Crowe) when he gets appointed to the task. Crowe doesn't bring more to this part than a saintly wounded quality.
A bad gangster movie is more entertaining than other kinds of films, and I probably wouldn't switch American Gangster off if it were on TV. Marc Jacobson, whose excellent New York profile served as the source for the film, described talking to Lucas as "a season of the Black Sopranos." On TV, this lengthy, lard-butted opus might seem a little less full of lukewarm air. But as directed by Scott, the film mistakes hastily set-up shots for pace. One can count on every juicy bit of supporting cast being evicted from the film. Not enough of Clarence Williams III's Bumpy Johnson, kvetching about the superstores to come; not enough Kevin Corrigan as a greasy weasel, way too much of Josh Brolin doing a credible if inferior imitation of the big-mustached Nick Nolte in Sidney Lumet's Q&A.
There is no central woman to light up the film. As Frank's wife, Lymari Nadal, making the least auspicious debut in a long time, plays a former Miss Puerto Rico as if she were cast because she was a former Miss Puerto Rico. Richie's bimbos ("Fuck me like a cop!") almost have no faces; the other women are naked heroin packagers or vindictive ex-wives. In the most unedifying role, Carla Gugino threatens her Jewish ex-husband Richie with the hell-fire he probably wouldn't believe in, anyway.
Scott tries to reprise the theme of The Godfather: success in America depends on the strength of one's family, and unfortunately most families have weak links. In real life, Frank was his own family's weak link, if you count how many of his brothers went to jail. The point Washington stresses, with his dogged, staid performance, is that Lucas could have been any other kind of driven businessman. Eventually, there's a point where a gangster movie becomes a knock-off of an Arthur Miller play.

AMERICAN GANGSTER (R; 157 min.), directed by Ridley Scott, written by Steven Zaillian, photographed by Harris Savides and starring Denzel Washington and Russell Crowe, opens Nov. 2 valleywide.
Send a letter to the editor about this story.