10.31.07
home | metro silicon valley index | silicon valley restaurants | review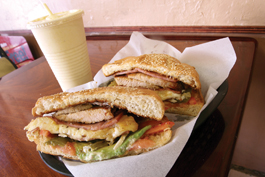 Photograph by Felipe Buitrago
TORTA! TORTA! TORTA!: Mexico Bakery #2 is one of the South Bay's best places to find one.
The Tortas And the Flair
In praise of an underappreciated Mexican delicacy.
By Stett Holbrook
AS FAR AS cheap Mexican food goes, most people fall into one of two camps. There are the odd outliers who seek out quesadillas and tostadas, but most of the world is divided into burrito people and taco people. Tortas, Mexico's version of a panini, don't get much love. That's a shame, because at their best these Mexi-sandwiches offer some of the most delicious eating you'll find at a taqueria. But finding the good ones takes some digging.
A torta, which means "cake" in Spanish, is nothing like a cake. Unlike virtually everything else served at cheap Mexican restaurants, the torta contains no tortilla, which, interestingly, means "little cake." Perhaps the cake reference refers to the bread upon which the torta is based. For me, the bread is the key to a great torta and the undoing of most.
A real torta, the kind served at little specialty shops on street corners throughout Mexico, is made with either a telera or bolillo roll. The latter is larger, but both are firm like sourdough bread but soft and chewy inside. They possess a sturdy crust that holds up well to toasting and the multitude of ingredients contained between the two slices of bread. Too many Mexican restaurants and taquerias skimp on the bread and serve crumbly, ineffectual rolls that fall between hamburger buns and steak rolls. Even if the fillings are first-rate, this kind of bread prevents a torta from achieving greatness.
One of the secrets to determining whether a Mexican restaurant is likely to serve a good torta is the kind of fillings available. In my experience, the best torta establishments serve a variety that goes beyond carne asada, carnitas, al pastor, pollo, lengua and other taqueria standards. Look for tortas like a "Cubana," a hulking specimen made with breaded steak, ham, pork leg, sausage and cheese. Tortas are Mexico's equivalent of a deli sandwich, not just a burrito made with bread instead of a tortilla.
La Casita Chilanga is Silicon Valley's premier torteria. There are four locations in the Bay Area (including one torta truck) but my favorite is the original and smaller one on Middlefield Road in Redwood City, which in itself should be a destination for all Mexican food lovers. Mixed in between the auto repair shops and mini-markets are scores of great Mexican restaurants. "Chilanga" is the slang term for residents of Mexico City and the squat little restaurant is a temple of tortas, one of DF's most beloved street foods.
Tortas are all they make here, so right away you know you're in the hands of a specialist. While not expensive, tortas here go for more than you'd pay for a super burrito. The Cubana, for example, costs $8.95 and is worth every penny. Also recommended is "la tesorito" ($6.25), and what a little treasure it is. Thinly sliced, smoked ham layered with avocado, onions, tomatoes, a thin layer of refried beans and the restaurant's creamy-spicy mayo. The whole package is toasted on a heavy panini-like grill that compresses the sandwich slightly and toasts both side of the bread evenly and crispy.
Mexico Bakery No. 2 is another standout torta maker. While the establishment devotes most of its business to an array of fresh-baked Mexican pastries, the tortas are the real star. The restaurant bakes its own sesame-topped telera and bolillo rolls. Tortas are served on telera rolls unless you request a bolillo and you may want to if you're not really hungry. The regular version is quite large.
Mexico Bakery has a number of torta options and also lets you mix and match. I went for a chorizo and ham torta ($4.50), and the two-fisted sandwich came loaded with avocado, pickled green jalapeņos and onions. The vinegary bite of the jalapeņos helps cut the richness of the sandwich. Wash it all down with a creamy mango licuado (smoothie) for the complete experience.
I've long touted the virtues of Metro Balderas' tacos (especially the al pastor) but only recently sampled their tortas. They're not quite on the same caliber of the aforementioned places but they're still strong contenders. The restaurant is another haven for comida chilanga (Metro Balderas is the name of a subway stop in Mexico City).
The tortas ($4.95) come on a nice toasty telera roll but it's a bit too soft for me. After eating so much pork I needed a break and went for the chicken torta. Made with the kind of stewy, tomatoey chicken I don't like on burritos, the juicy meat worked well on the torta when paired with vinegary pickled jalapeņos, avocados and sliced onions.
After tortas, the next best thing about Mexico Bakery is its business hours. It opens at 5am and stays open until 3am on weekends. So whether you're an early riser or late-night bar hound, great tortas are there for you.
---
La Casita Chilanga
Address: 2928 Middlefield Road, Redwood City.
Phone: 650.568.0351.
Metro Balderas
Address: 688 S. Almaden Ave., San Jose.
Phone: 408.295.4078.
Mexico Bakery No. 2
Address: 87 E Santa Clara St., San Jose
Phone: 408.920.2518.
Send a letter to the editor about this story.