10.31.07
home | metro silicon valley index | music & nightlife | band review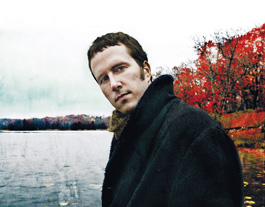 Crazy like a Trans-cendental Meditator: Mason Jennings never spares himself an awkward moment.
Godless Folk
Mason Jennings treads the awkward spiritual path.
By Mike Connor
THE SONG "Godless"—the fourth track on Mason Jennings' homemade, self-titled debut, is kind of an anomaly in his catalog. Jennings (based in Minnesota, no relation to Waylon) is often pigeonholed as a handsomely melodic folk rocker akin to Jack Johnson, but "Godless" suggests otherwise. In this gritty, punk rock murder ballad, the narrator is holed up in a room as helicopters and police on the street close in on him for killing the man who raped his wife.
As the song progresses, Jennings doesn't so much sing as spew lyrics over a single droning note, thoroughly shredded into sixteenths on acoustic guitars. Then his vocal performance flies off the handle, stuttering through the chorus ("K-k-killed a man, now I'm on the run/ Godless burning underneath the sun"), but eventually degenerates into shrieking onomatopoeic sounds of bullets flying: "Rat-a-tat-tat-tat-tat-tat-tat..."
It's the kind of song that, in a standard recording contract situation, would be promptly nixed from an otherwise perfectly lovely, mellow album. But up until last year when he signed on with Modest Mouse frontman Isaac Brock's Glacial Pace label, Jennings was fiercely independent—playing, producing, selling and promoting his music by himself.
"The guys in the Kings of Leon called me and they said they listened to ["Godless"] on repeat when they first got signed," says Jennings. "They were just saying it was what they listened to to keep it real, you know?"
As it happens, "Keepin' It Real" is the title of a song on his fifth album, Use Your Voice (2004), the last album put out by Architect Records, Jennings' own record label. The song is almost impossibly upbeat, shuffling along with sticky-sweet lyrics: "Oh yes, my oh my/ The earth shakes when you walk by/ It's a fairy tale that we made true/ I can't believe that I found you."
When a fan asked if "Keepin' it Real" is about "a guy in love with a 'big girl,'" Jennings clarified that it was a song about a "big guy" named Shrek, and that the music producers of the film asked him to write the song. It was never used in the movie, so, like other uncomplicated love songs such as "New York City" and "Butterfly," "Keepin' it Real became part of Jennings' repertoire.
Playing music professionally since he dropped out of high school at age 16, Jennings finally got himself a band when he was 22 and developed a loyal following in Minneapolis. Now 32 with a wife, kids and six albums under his belt, Jennings has managed to build a diverse catalog that balances deceptively simple love songs with fearlessly, even shamelessly transparent autobiographical songs, as well as a bunch of playful tunes mixing things up.
Further complicating his library are civil rights anthems like "Black Panther" and "Dr. King." And then, when his friend Rick Rubin sent him a copy of Ram Dass's Be Here Now, Jennings was inspired to write a song about that, while his work with Transcendental Meditation (Rubin introduced him to Nancy Cooke De Herrera, who spent time with the Beatles in Rishikesh) has inspired a psychedelic turn in songs like "Some Say I'm Not."
But the quality that's most likely responsible for dividing his fans from his detractors is Jennings' earnestness, which leads him to write songs like "Jesus Are You Real," a simple, seven-chord song in which Jennings is questioning, doubting and loving "God" in humanist terms. He wrote it spontaneously in an evening, but like many of his songs, "Jesus Are You Real" is way outside his comfort zone.
"That was so embarrassing when I wrote that," says Jennings. "I showed it to my band and they laughed—they're like, 'Holy shit dude, where are you going?'"
For his new album, which should come out next spring or early summer, Jennings is trying to figure out whether he should split it in two, with "one that's more spiritual based and one that's more, you know, not." He's still figuring it all out, but seems comfortable in the uncertainty.
"I like that though," says Jennings. "If I feel awkward or embarrassed, I feel like I'm on the right path.
MASON JENNINGS performs on Saturday (Nov. 3) at 9pm at the Blank Club, 44 S. Almaden Ave., San Jose. Tickets are $12. (408.292.5265)
Send a letter to the editor about this story.