10.31.07
home | metro silicon valley index | music & nightlife | band review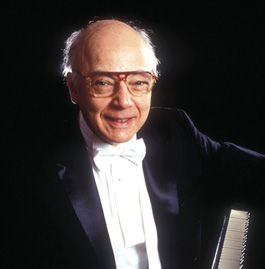 CHARACTER AND CONTENT: Pianist Seymour Lipkin distilled the essence of Schumann's Concerto in A Minor.
In the Key of Wisdom
Veteran soloist Seymour Lipkin shows that experience counts in his Symphony Silicon Valley performance.
By Scott MacClelland
IT TOOK Waylon Jennings to turn the anonymous proverb "Old age and treachery always overcomes youth and skill" into an original song. But it was another advantage of age—wisdom—that sparked the crowd attending the Symphony Silicon Valley concert last Sunday afternoon at the California Theatre. That cherished quality descended from 80-year-old pianist Seymour Lipkin by way of Robert Schumann's Concerto in A Minor. Now slight, and possibly a little frail, Lipkin went straight to the heart of Schumann, for its singing and its sighs.
There is no other piano concerto quite like it (though Grieg's, also in A Minor, at times conveys similar character). Neither of Schumann's contemporary piano giants, Liszt and Chopin, favors poetry over pianism like this piece. Even Mendelssohn preferred bravura in his piano concertos. Hence, Schumann distills an expressive essence without the chaff of virtuosity and glitter for which the others are well known. Moreover, Lipkin focuses on the poetic. It's what sets him apart from many of today's young Turks who, lacking the insights of age and maturity, substitute dazzle instead.
Lipkin also extends a venerable continuity learned from his piano mentors Rudolf Serkin and Mieczyslaw Horszowski (who made his last commercial recording for Nonesuch at age 94!). In Lipkin's hands, the winner was the music itself, its lyricism and melodies. This attention to character and content bespeaks Lipkin's vast experience playing chamber music, where dialog and balance are crucial. Lipkin also knows the podium well. In this case, conductor and fellow traveler George Cleve paid as much attention to the soloist as to the orchestral performance. Fans of keyboard literature had to marvel as Lipkin channeled the muse with understated authority. The effect similarly converted the uninitiated, and a noisy demonstration from all corners of the room punctuated the performance's final flourish. Lipkin returned the compliment with two encores, Chopin's Nocturne in F sharp and Mendelssohn's "Spinning Song."
Cleve went on to lead Brahms' Symphony no. 3, the least-performed among the composer's four symphonic monuments. Yet it contains all the hallmarks of the German composer's mastery of form and rhetoric. Conducting from memory, Cleve took pains to bring out the inner voices where they particularly enrich the texture and intensify the harmonies. The work's third movement remains one of Brahms' most haunting and endearing melodies, not to mention the antiphonal phrasing that inhales and exhales like the very breath of life. Because the work ends with a soft sigh, some presenters like to punctuate it with something that goes out with a bang. Cleve's choice here was one of Brahms' Hungarian dances, and it got the big reaction that the symphony itself only partly aroused.
Cleve opened the program with Debussy's Afternoon of a Faun, a tone poem that is actually more conventional in construction than the original "revolutionary" reputation it attracted. Languid and vivaciously colorful, it drew attention to the many fine first-chair players of the orchestra, particularly flutist Maria Tamburrino, "the real musician in the family," Cleve, her husband, often brags.
Send a letter to the editor about this story.