10.31.07
home | metro silicon valley index | the arts | stage | review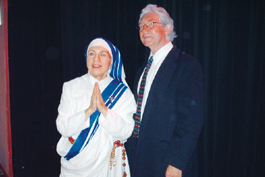 OPPOSITES ATTRACT: Kevin Kennedy and Diana Hoffman star in 'Malcolm and Teresa.'
Odd Couple
A left-wing journalist meets a saint in 'Malcolm and Teresa'
By Marianne Messina
SAN JOSE playwright Cathal Gallagher's Malcolm and Teresa gets at the story of English journalist and talk-show host Malcolm Muggeridge by bouncing back and forth between two key points in Muggeridge's public life. In the early 1930s, the Communist-leaning Malcolm (Kevin Kennedy) is covering Moscow for the Manchester Guardian when he inadvertently stumbles over a devastating Ukrainian famine (now estimated to have caused 4 million to 7 million deaths). In Gallagher's telling, Malcolm's bundle of experiences around this famine—sights of starvation, disillusionment caused by the Russian government's refusal to mitigate it, ostracism suffered at the hands of other left-leaning intellectuals whose guided tours of Communist Russia led them to disbelieve his reports—throws him into an existential crisis that will only be answered 30 years later when he meets and interviews the then-unknown Mother Teresa (Diana Hoffman) on his talk show.
Familiar spiritual figures like Malcolm and Mother Teresa offer the local Catholic theatrical troupe Quo Vadis Theatre Company ample pretext to explore spiritual material without resorting to preachiness. Still, some of the play's Christian abstractions may feel detached from reality for the uninitiated. Shifting into Muggeridge's 1930s life by way of old Bing Crosby tunes and to his '60s life by way of the Beatles (especially apt are the sitar songs), director Denis Marks facilitates Gallagher's connection between the moment of greatest disillusionment and the moment of spiritual awakening. And the recurring apparition of a solitary beggar boy (Joey Torreano) ties the children dying in Ukrainian famine to those dying on the streets of Calcutta, where Mother Teresa worked.
In response, discussions between Malcolm and Teresa, and Malcolm and his wife, look at what one person can do in the face of enormous suffering. "One man did not turn away," Malcolm's wife, Kitty (Mimi Ahern), consoles him, referring to his persistent coverage of the famine. Through a combination of humor and a chipper portrayal by Ahern, the central glue of Malcolm and Teresa turns out to be the relationship between Malcolm and Kitty. Ahern manages to be both witty and adoring, bright but not overly cheery in her unflinching support for Malcolm. With equal charm, Ahern's Kitty tells off producers who try to second-guess Malcolm's judgment yet refers to him fondly as a "stubborn, gruff little Cambridge man."
It's got to be hard to play or direct a saint without resorting to the iconic, but Hoffman adds to the famous holy woman's identifiable demeanor just a soupcon of quirky individuality. Kennedy's Malcolm is solid, though his linguistic inflection seems unsettled, like the shuffling of shoulders in a newly donned coat. Marks keeps the action and comedic timing smooth by placing scenes on the stage apron before a curtain. A quick whisking away of the curtain works magic. The presence of Mother Teresa is wisely doled out slowly so that anticipation from Act 1 prepares the way for the harder discussions in Act 2 about faith and the horrific sorrows of Calcutta. As in the Bible, the play's more universal and hard-hitting truths derive from parables. Perhaps Mother Teresa's most touching comment to Malcolm is when she tells him, "You are like Nicodemus."
MALCOLM AND TERESA, a Quo Vadis production, plays Thursday–Saturday at 8pm through Nov. 3 at the Historic Hoover Theatre, 1635 Park Ave., San Jose. Tickets are $12–$15. (408.252.3530)
Send a letter to the editor about this story.