November 1-7, 2006
home | metro silicon valley index | columns | silicon alleys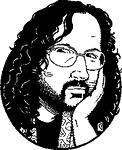 Silicon Alleys
Lehrer's Lunch Spot
By Gary Singh
IN 1965, Tom Lehrer sang these lyrics for a San Francisco audience: "The breakfast garbage that you throw into the bay/ They drink at lunch in San Jose." I didn't come into this world until a few years after that, but I had to recently revive all my Tom Lehrer memories because Theater on San Pedro Square just finished its run of Tomfoolery, a theatrical exposition of that singer's classic tunes.
If you don't know who Tom Lehrer is, you should. As early as the late '40s, Tom Lehrer was sitting there at his piano and performing verbally acerbic songs that unabashedly ridiculed just about everything. To the annoyance of my mother, my dad turned me on to those records when I was a kid. Whenever I tell people that I grew up listening to Tom Lehrer albums, people always say, "Ah, so that's what happened."
And my Tom Lehrer experiences go all the way back to the Boy Scouts. Troop 347 met every Tuesday in the early '80s in an historic building at the corner of Union Avenue and Los Gatos-Almaden Road. A women's group called We and Our Neighbors owned the place and let our troop use the facilities. An old piano sat inside and since I had started playing by age 9, I always wanted to sit there and tickle the ivories before, during and after the Boy Scout meetings. But the scoutmaster would never let me play the piano because the old ladies who owned the place had instructed him to say that. They understandably didn't want a bunch of kids bashing on the thing and ruining it. But I actually knew how to play, and I tried to explain this, but the scoutmaster wouldn't go for it. A great portion of my comprehensive hatred for the Boy Scouts came from them not letting me play the piano in that building at Union and Los Gatos-Almaden. The building is still there and that blasted piano probably still is, too.
Tom Lehrer factored in the equation because while I was in Boy Scouts, all I wanted was to sit there and play his song, "Be Prepared," on that piano, and they wouldn't let me. You see, that song was a glorious mockery of everything the Boy Scouts have ever stood for, and, at that juncture, I believe I was the only kid my age who had even heard of it, let alone being able to play it on the piano. Lehrer, who's now pushing 80, always said that of all the songs he ever sung, "Be Prepared" was the one he had the most requests not to play. The very first verse tells Boy Scouts to be prepared to hold their liquor pretty well, and not to write naughty words on walls if they can't spell. It also advised a young Boy Scout not to pimp out his sister unless he gets a "good percentage of her price." And then the infamous passage at the end: "If you're looking for adventure of a new and different kind/ And you come across a Girl Scout who is similarly inclined/ Don't be nervous, don't be flustered, don't be scared/ Be prepared!"
That song prepared me for life more than the Boy Scouts of America were ever able to do. And it ignited what was then my natural-born distrust for all authority figures worldwide.
But it wasn't all negative. I had a chemistry teacher in high school who used to play us a Tom Lehrer song called "The Elements," where Lehrer set the names of the chemical elements to a melody by Arthur Sullivan. It was a highly effective way to inflict rote memorization of the periodic table. And the teacher was blown away that I already knew who Tom Lehrer was. He even asked me to loan him the LPs because he had an old cassette copy of the song and wanted to rerecord the albums.
That's right—I was 16 years old and a high school chemistry teacher was asking me to loan him Tom Lehrer albums. It was one of the first times in my life where I actually respected authority. God bless Tom Lehrer and God bless Theater on San Pedro Square for celebrating one of the most brilliant songwriters in human history.
Contact Gary Singh or send a letter to the editor about this story.