November 1-7, 2006
home | metro silicon valley index | movies | current reviews | film review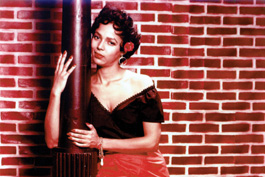 Lady in Red: Dorothy Dandridge made a sensational antiheroine in 'Carmen Jones,' the film version of the opera.
Show Bizet
Dorothy Dandridge and Lena Horne ignite musicals 'Carmen Jones' and 'Stormy Weather'
By Richard von Busack
DESCRIBED as "what fellas back home would call 'a hot bundle,' I guess," Dorothy Dandridge's screen Carmen in the 1954 Carmen Jones is the highlight of a film that takes some getting used to. "Dat's Love," Oscar Hammerstein II's lyric to the famous habanera isn't as easy on the ear as the French lyrics. The cast includes Diahann Carroll; the powerhouse belter Pearl Bailey, decked with feathers and rhinestones; and the intimidating Broc (later Brock) Peters as the sergeant who taunts Don Jose into a fight. As the unlucky "Joe," Harry Belafonte is as nervous as a cat, and he contends with a dubbed tenor voice so different from his familiar mellow tones.
But most of Carmen Jones works, and the film is often enrapturing. Georges Bizet's 1873 opera was originally performed as an opéra comique—meaning an opera with spoken word in it, instead of recitatives. The feared director/ producer Otto "The Ottocrat" Preminger returned to this conception in his film version, making what he called "a dramatic film with music." A keen sense of design led Preminger to be the first director to hire Saul Bass; the eminent designer came up with an enticing title sequence in which animated scarlet flames consume a cartoon rose.
Preminger also gave Dorothy Dandridge her first major part. The sophisticated nightclub chanteuse coarsened her speaking voice and her diction to play this backwoods Carmen. (Marilyn Horne dubs her singing voice.) She is chemical as hell—a sensation in tight pink skirts and zebra-striped underwear—but Dandridge is also an affecting antiheroine. Having read her fate in the cards, she decides to seek pleasure and freedom, standing up to the male lust for possession until she's destroyed, like a female toreador killed by the bull she was teasing. Maybe Dandridge's emoting when she draws the fatal nine of clubs from her deck is all the more affecting, since we know her own fate. Though she was the first black person ever to appear on the cover of Life magazine, Dandridge didn't prosper; racist typecasting and gossip hurried her to a young end, at 42.
The idea of squandered talent runs through Carmen Jones' co-bill, Stormy Weather, one of the few other all-black musicals of the segregation age. The 1943 film begins with a magazine cover "Celebrating the Magnificent Contribution of the Colored Race to the Entertainment of the World During the Past 25 Years." Mulling over these sentiments, retired hoofer Bill "Bojangles" Robinson takes a trip down memory lane. He recalls his storm-tossed affair with Selina Rogers (Lena Horne). Their troubles are illustrated by a ballet in the tempestuous clouds, performed by Katherine Dunham and her dancers. Shallower natures, resisting Lena Horne's version of the title tune, will prefer the berserk exuberance of Cab Calloway performing "Geechy Joe" in a zoot suit. Or, for that matter, Fats Waller, seen shortly before his death, at age 39, flirting his way through "Ain't Misbehaving." The studios should have made a hundred movies with these talents. As always in the movies, it's not the idea of what we might have had that matters so much as what we did get—and what's right here to be seen and seen again.

Carmen Jones (4:05 and 7:30pm) and Stormy Weather (6 and 9:25pm) plays Nov. 4-5 at the Stanford Theatre in Palo Alto.
Send a letter to the editor about this story.