November 1-7, 2006
home | metro silicon valley index | the arts | books | review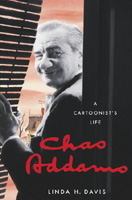 Charles Addams: A Cartoonist's Life
(By Linda H. Davis; Random House, 400 pages; $29.95 cloth)

Tragically, the renowned cartoonist had no horrible secrets to be revealed only after his death. We have the consolation of knowing that he played the part of an uncanny man to the full. His residences were stuffed with taxidermed animals, mortuary antiques and a serious collection of medieval armor and crossbows that brought about $250,000 after his death. A safe and prosperous Victorian childhood may have been the secret to Addams' lifelong love of horror, which so many children outgrow. The women who admired him often commented upon his boyishness. Thrice married, Addams squired around Garbo and Jackie Onassis; Lauren Bacall referred to him as "Chucky baby"; and he was briefly involved with Joan Fontaine. ("He'd spawn with anything that twitched," commented the brackish Fontaine.) In 1,300 panel cartoons and 64 covers for The New Yorker, Addams was both a style setter and inimitable, and this fits a Godfather of Goth who loved the ordinary pleasures like scotch, race cars, dogs and bird-watching. Addams' comic morbidity was a natural for the movies and television; despite all the watering down, his famous libido found its way into TV's Morticia and Gomez. And there's an argument to be made that Addams' small-press congerie of necrotic and freak-show photos, Dear Dead Days, may have anticipated more blue-chip artists from Diane Arbus to today's carnival-kitsch lovers. The rule that no man is a hero to his biographer doesn't apply in Addams' case. If half of what's here is true, Addams was as much of a pleasure in person as he was on the page. His life and career could be summed up by an unpreviously published drawing in which a hooded executioner on a scaffold confides, "As soon as it stops being fun, I'll quit."
Review by Richard von Busack
Send a letter to the editor about this story.