November 1-7, 2006
home | metro silicon valley index | silicon valley restaurants | review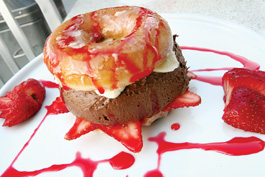 Photograph by Felipe Buitrago
Genius burger: If you've always asked yourself, 'When the hell are they going to invent a Chocolate Burger?', your day has come.
Counter's Revolution
You can have it your way once again at new burger phenom
By Stett Holbrook
THE Counter is a sit-down burger joint that's about to sweep the nation in a flurry of soon-to-open franchises. Based in Los Angeles, the Counter began in Santa Monica and opened a second location on California Avenue in Palo Alto about three months ago. Future openings in San Jose, Oakland, Las Vegas, Santa Barbara, San Diego and other cities are reportedly in the works.
The Counter takes the quintessential American burger and turns up the Americanness by letting diners choose from dozens of options to build a custom burger. We Americans love our burgers almost as much as we love our freedom of choice. Combine the two under one roof and you've got a winner.
The multitude of patty choices, buns, toppings, cheeses and sauces add up to more than 312,000 different combinations. To order, simply tick off choices from a clipboard-mounted order form and hand it to your server. Interestingly, there's no box to check for desired doneness. All burgers are cooked medium unless you tell your server otherwise. Add a full bar, industrial chic décor, hip music and a young staff with cool T-shirts, and it's easy to see why the Counter has struck such a chord.
In spite of all those options (beef, turkey, chicken, peanut sauce, spicy sour cream, fried egg, grilled pineapple, feta cheese, English muffin, etc.), my first burger ($6.95) was pretty conventional. I chose a regular old beef patty (1/3 pound of Angus beef), topped with red onions, tomatoes, pickles and lettuce. I did get a little crazy and throw in a slice of horseradish cheddar cheese. It was a pretty darn good burger. While I like my beef a littler pinker, it was still a juicy, flavorful burger that held together to the last bite. My one complaint was it wasn't as hot as it should have been.
Customizable burgers are nothing new. Burger King touted its user-friendly burgers in the 1970s with a catchy little jingle that went:
Hold the pickles, hold the lettuce
Special orders don't upset us
You can have it your way at
Burger King.
But holding the pickles doesn't come close to the thousands of options at the Counter. One of the more interesting choices is the "burger in a bowl" ($8.50 for 1/3-pound burger). Essentially a bunless burger served atop of a bed of lettuce, it's aimed at the last three Atkins diet diehards, those with wheat allergies or people who just don't like bread.
I'm always pleased to see turkey listed as a burger option but usually disappointed when the burger arrives. Because they lack the fatty goodness of beef, turkey patties can be as dry as sand. But the Counter's turkey burger ($6.95) is pink and juicy and doesn't require a glass of water to wash it down.
A tip of the hat to the Counter for making its own veggie burgers ($6.95), too. Most restaurants that offer veggie burgers serve outsourced frozen patties and yet charge as much as the regular beef burgers. The Counter's are a combination of brown rice, black beans and corn. It's a thick and filling patty, but it was too mushy for my taste. The outside was well charred, but it had a baby food-like consistency inside.
Side orders are particularly good at the Counter. French fries ($2.50) look and taste like McDonald's fries, and I mean that as a compliment. Even though they're no longer made with beef fat, Mickey D's makes a damn good fry. Good, too are the sweet potato fries ($4). They're sliced long and thin and fried to a crisp, dark orange. Best of all are the fried dill pickles ($4). If you've never had this Southern delicacy, you've been missing out. The pickles are sliced into thick coins and battered in a thin but sturdy cornmeal coating. The sour juiciness of the pickles is a perfect match for the salty, savory crust. And because the pickles are perfectly encased in their little batter shell, the pickles stay steamy hot.
Malts and shakes ($3.95) whipped up in classic Hamilton Beach blenders are your best dessert option. They're served thick and creamy in a pint glass. But steer clear of the chocolate burger ($4). Instead of burger and bun, the dessert is made with a sliced glazed donut filled with chocolate mousse, strawberries and bananas. It's a novel idea, but you really don't want to eat it. The mousse is heavy and chewy. Taken as a whole, it's a tooth-achingly sweet gut bomb.
Given the size of the burgers and all the options you're likely to pile on, you probably won't have room for dessert anyway.
---
The Counter
Address: 369 California Ave., Palo Alto.
Phone: 650.321.3900.
Hours: 11am-9pm Mon-Thu, 11am-10pm Fri-Sat and noon-9pm Sun.
Cuisine: Hamburgers.
Price Range: Burgers start at $6.95.
Send a letter to the editor about this story.