November 1-7, 2006
home | metro silicon valley index | music & nightlife | preview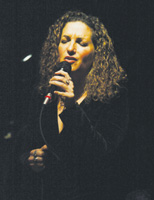 Caravan Leader: Kat Parra performs Duke Ellington's famous standard 'Caravan' on her new album.
Soaring
Local vocalist Kat Parra flies high with release of Latin jazz album 'Birds in Flight'
By Chuy Varela
SAN JOSE SINGER Kat Parra is flying high since the release of her Birds in Flight debut album a few months ago. She has garnered significant airplay on more than 150 radio stations in the United States and Canada, which has led to a positive reception into the world of Latin jazz. Producer Wayne Wallace created the perfect setting for a voice that cascades from eerie to provocative in a three-octave range singing stories with intense passion and absorbing delivery.
"I'm so excited by the response the album has gotten so far," Parra said in a recent interview. "The talent on the CD has really helped push it along, and Wayne Wallace did a great job leading this project. The Bay Area musicians deserve much more props than they get. And we've been getting a lot more as a result of this album, and that feels really good to me."
An alumni of the San Jose State University Jazz Studies Program, Parra began as a classical flute player. She majored in the instrument at UCLA, but as fate would have it, she got married and pregnant and soon returned to San Jose. She decided to finish her degree in voice and began studying with Patti Cathcart, of "Tuck & Patti" fame. "Patti kicked my butt," recalled Parra. "I always thought singing came easy to me, and then I met Patti. She showed me there was much more and opened all these doors for me."
Birds in Flight offers 11 songs that include the Sergio Mendes hit "Mais Que Nada," featuring her son, Pat, on a flavorful hip-hop rap. "Caravan," the Duke Ellington and Juan Tizol jazz standard, is done in a masterful fusion of Afro-Cuban and Middle Eastern rhythms. The album also boasts a rare Sephardic Jewish piece titled "Kuando El Rey Nimrod."
Having sung with the popular Santa Cruz salsa band Charanga 9 for many years, Parra inspires dancers with nice cubano cookers like "Dame La Llave." Stunning jazz renderings of songs from the nueva trova, the Latin American new-song movement, also add sparkle to the album.
This Saturday, Nov. 4, Kat Parra will host a CD-release party at the Mexican Heritage Plaza in San Jose with Wayne Wallace and most of the cast on the album. But it is also to celebrate the culmination of a journey for her, since she recently quit her day gig to pursue a full-time career in music.
"I quit singing for a couple of years and thought that was it," Parra said. "Then I got a call to audition for Cirque Du Soleil, that got me singing again. I did not get the gig, but they gave me my voice back. But if was coming back I had to do it on my terms, and I believe that I am with a project that's blossoming."
Kat Parra performs Saturday (Nov. 4) at 8pm at the Mexican Heritage Plaza, 1700 Alum Rock Ave., San Jose. Tickets are $15. (408.928.5500)
Send a letter to the editor about this story.