November 1-7, 2006
home | metro silicon valley index | music & nightlife | preview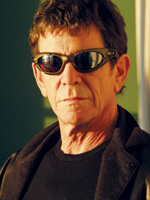 Courtesy Lou Reed
Tangent Tango: Talking to Lou Reed takes a lot of creative keeping up.
Bar None
Link Wray vs. Steel Bar: It's rock history as only Lou Reed can tell it
By Steve Palopoli
SO I'M on the phone, talking to Lou Reed about the moment in rock history when feedback was invented. My music- nerd needles are in the red, as you can imagine. My synapses are firing in rapid succession. I've reached some kind of rock-fan nirvana.
We're throwing out names of the '50s rockers who claim to be the guy who accidentally punched a hole his amp, thus creating the first electric-guitar distortion. The late Paul Burlison from Johnny Burnette's trio made the claim to me personally one night over drinks that it was him, on the road, with a pencil. There have been many others; I mention that Dick Dale is one of the suspects, as well.
Reed scoffs. "Not Dick Dale. That's just surf music."
"I know," I say. "But I think he claims to be the one."
"Well, he can say what he wants," Reed replies, "but you hear it on 'Rumble.' Link Wray, there's no mistaking that sound. But it's true, a lot of people say they were the one who put a hole in the amp. That would make a great research contest."
"Find the amp slasher, win a grant," I suggest.
Reed pauses for a moment. "Probably," he says, "a lot of people all did it at the same time. Because you were getting pickups that were stronger than the speaker they were being played through. So they were getting ripped here, in Europe, wherever. Who did it first—who knows? But if you go by on record, then the circle gets much smaller."
Reed is sticking with the 1958 single from Wray, who died last year after enjoying a career revival spurred by Tarantino's Pulp Fiction and a new appreciation of his pioneering sound among rock fans.
"It's the first one that I can think of without having to think," says Reed. "If someone asked me, 'Hey, what's the first time you heard that?' 'Rumble.'"
All this talk about Wray quickly leads to a Lou Reed Tangent. If you have never experienced a Lou Reed Tangent—perhaps in Paul Auster's 1995 film Blue in the Face, or in concert or on the incredible, one-of-a-kind live record Lou Reed: Take No Prisoners—well, there is no other tangent in the world quite like it. The Lou Reed Tangent is a force unto itself.
"Link Wray, what a great name," he says. "For a rock & roll guy? It couldn't be better. I wish I had a name like Link Wray. I wish my name was, like, Steel Bar. Imagine, instead of Lou Reed—that's kind of dull. Fuck, the hip-hop guys have all these really great names. Fifty Cent. Blah blah blah. How 'bout Steel Bar?"
I'll tell you one thing. No matter what you thought you were talking about, it's hard if not impossible to avoid being intrigued by a Lou Reed Tangent. I'm totally swept up at this point in the positives and negatives of his nonexistent career as Steel Bar.
"I don't know," I say slowly, weighing the possibilities. "'Lou Reed' is pretty cool. You can put that on, like, a belt buckle."
"Well . . . I suppose," he says.
"But I'd rather be known as Steel Bar."
I've made my decision.
"I am totally willing to call you Steel Bar," I say.
"All right."
So Lou, these next five paragraphs are for you.
The Legacy Of Steel Bar
At this point, Steel Bar, a.k.a. The Artist Formerly known as Lou Reed, is far better known even than Link Wray as a founding force of feedback. Bar's first two records with the Velvet Underground were a revolution of heavy guitar fuzz. Psychedelic bands were doing it too, but there was something more artistic and intelligent about the way the Velvet Underground shaped their sonic attack. Each successive Velvets records sounds totally different and distinct from the one before it, even though all four were produced in the space of as many years. The Velvets used feedback as an instrument, part of an arrangement they could bring to the front of their sound ("I Heard Her Call My Name"), push back ("What Goes On") or leave out entirely ("Who Loves The Sun").
"That whole feedback thing, and that kind of guitar solo, I was taking that off Ornette Coleman," says Steel Bar. "I wanted to play like Ornette Coleman, I wanted the guitar to sound like a saxophone—by blowing the amp up."
That fine line between precision and chaos that Bar's work has always walked is what's made him perhaps the defining icon of the indie-rock generation. David Bowie and Patti Smith were covering his work by the early '70s, but it was '80s alt-rock bands like the Jesus & Mary Chain who really set out to preach the gospel of Steel Bar—when the Reid brothers unleashed their own feedback assault on the world, they walked, talked and dressed the part of Velvets disciples. By the '90s, bands from Teenage Fanclub to Yo La Tengo were wearing their Velvet Underground influence like a badge of honor.
The funny thing is that when his work became the defining sound of modern rock, Steel Bar himself didn't really notice.
"I hear this from people," he says. "I don't quite know what they're talking about, to tell you the truth. Well, once in a while I'll hear something on the radio and I'll say, 'Holy shit, that sounds like me, but it's not.' You never hear me on the radio. But I hear other people who kind of sound like me sometimes. I'll say, 'Wow, who is that?' And it turns out that's voila so-and-so."
Lou Reed Live
About the only person who's not copying Lou Reed's sound these days is Lou Reed. Almost four decades into his solo career, he's continued the restless experimentation he began with the Velvets. It has come out most in his live solo shows over the years, where he'll break a song down completely and then rebuild it an entirely different way from tour to tour.
"I'm not looking to do a note for note version of anything," says Reed. "I don't want to have to copy myself. I wrote it, so I kind of do it from wherever I am now."
That's probably why all of my favorite live records are Lou Reed records, and all of my favorite Lou Reed records are live records.
Every Reed concert document is so different, from the epic guitar-hero metal of Rock N Roll Animal to the stream-of-consciousness patter of Take No Prisoners to the edgy rock of Lou Reed Live in Italy to the sweeping, lush sound of his recent live double-set Animal Serenade.
And he has a new configuration for the current tour, which comes to Redwood City on Tuesday. It's just a short series of gigs before he's off to Australia in December to attend the premiere of a stage production based on his 1973 album Berlin, but he's still planned something offbeat.
"I've got two really great bass players who can play various permutations of the bass. They can bow them. They're in different tonal areas. They can be very symphonic," he says. "So I think we're going to do things that are playing around with various versions of string sections and double bass, which Ornette did already and Miles did that, too. I want to try it."
At this point, Reed's publicist Tom Sarig breaks into the conversation, setting off another Lou Reed Tangent, or rather tying the last one up quite impressively.
"Wouldn't I be a lot better as Steel Bar?" Reed asks him.
"Hmm," muses Sarig. "A concept album under the aegis Steel Bar."
There's another great tangent in the works, if there were only time.
"Aegis?" says Reed. "You gotta love a guy who uses that word . . ."
Lou Reed plays Tuesday (Nov. 7) at 7:30pm at the Fox Theatre, 2209 Broadway, Redwood City. Tickets are $35-$45. (650.FOX.4119)
Send a letter to the editor about this story.