November 1-7, 2006
home | metro silicon valley index | columns | silicon veggie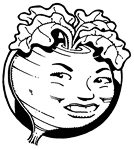 Silicon Veggie
30 Days, All Vegan
By Elisa Camahort
I DID IT. Thirty days as a vegan. It was easier than I expected, except for the times when it was harder than I expected. Becoming a vegan influenced me to start cooking again, a practice I had abandoned to start a torrid affair with my microwave. I remembered that I enjoy cooking and that the results are usually more fulfilling than tossing shredded cheese on some sort of starch and nuking it.
Becoming a vegan also reminded me that the outside world doesn't think too much about vegans. Unless I was at vegan restaurant, there was very little ordering straight off the menu. Every meal out turned me into Meg Ryan in When Harry Met Sally.
So, I know what you're wondering: Was I perfect?
No. There were three days that I believe were nonvegan by choice.
The first slip was situational: I went to a wedding in a remote location. I nobly bypassed all the nonvegan hors d'oeuvres, but by the time they served dinner I hadn't eaten in eight hours and I was hours away from having access to other food choices. So I ate a few things I am pretty sure were only vegetarian, not vegan.
The second slip was pure succumbing to temptation: I threw a birthday party with many tasty vegetarian and vegan options. I stayed true all night long, but all night long the baked brie taunted me. Late that night as I cleaned up, I snuck a bite.
The third slip was pure carelessness: Every time I take my cat to the vet I snag a Tootsie Roll or two from the jar on the counter. It's a routine. I did that last week too. And when I got home and wrote it down in my food journal (yes, I'm keeping a food journal, and I'm publishing it online here: http://elisac.vox.com) I realized, hey, chocolate usually has dairy in it, and I bet that those Tootsie Rolls did too! I haven't confirmed that, but I'm pretty sure it was a slip.
Metro readers came through with everything from practical to philosophical suggestions—restaurants, recipes, cookbooks, vegan cheese, mantras and visualizations—you name it. You gave me fodder for Silicon Veggie for months to come. Next month I'll get started with some restaurant recommendations you made. Mostly I was surprised by the supportive encouragement I received, even from some of you who aren't vegans yourself. Thanks everyone—it all helped!
Send a letter to the editor about this story.