11.04.09
home | metro silicon valley index | the arts | visual arts | review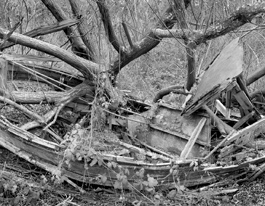 Collection of the artist
BACK TO NATURE: In Joel Leivick's 'Lost Boat' (in detail), the trees reclaim one of their own.
Teachable Exhibit
Stanford art profs show off their diverse visual strategies in'From Their Studios' at Cantor Arts Center
By Michael S. Gant
JESUS, barefoot and with a lamp protectively cradled in his arm, strides in close formation with Abe Lincoln in a stove-pipe hat and Julie Andrews in her Sound of Music dirndl, looking ready to break into song at any moment. Is this a trio of saviors—religious, political and pop cultural—or an just an accidental meeting in neutral painterly space?
Artist Kevin Bean gives no hint; the green ground merges in an undifferentiated vertical plane with the featureless blue sky. The painting is really an exercise in shape and color, but the recognizable faces impart an aura of significance, as if this were some academic history painting.
Bean, who teaches art at Stanford, often works with simplified human figures placed against broad, plain swathes of color, generally with their facial figures left tantalizingly blank—indeed Jesus, Abraham and Maria is unusual for its portrait details. Also on display in "From Their Studios," a new show of works by Stanford art-faculty members at the Cantor Arts Center, is Backyard, a large oil study of soothing suburban greenness marked off by the white and red corners of two houses and a slash of a tree trunk—it's practically an abstract. Bean goes all the way to Josef Albers–like color studies in five small exercises in his Geometry and Color series. (More examples of Bean's paintings can be seen through Nov. 20 in a show at the Mohr Gallery at the Community School of Music and Art in Mountain View.)
The 13 artists represented display a satisfyingly wide embrace of techniques, materials and artistic intentions. One envies the lucky art students who take their classes. This may be an academic setting, but none of the works are "academic" in the stultifying sense of the word that so rankled the Impressionists.
Bean's style, with its echoes of Diebenkorn, seems quite traditional compared to Terry Berlier's multimedia sculpture Self-Leveler, consisting of a circular wooden frame mounted on curved legs that rock in rhythm to the motorized swinging motion of a metal hammer. The constant swaying suggests the deck of a ship, and a video screen in the circular mount provides a vista of waves. The piece is subtitled Tipping Point, and Berlier no doubt wants us to think of those moments when natural equilibrium collapses into eco-disaster.
Paul DeMarinis deconstructs some famous films for his Early Media Goes to the Movies series. Working with a variety of cutting-edge and so-old-they're-new techniques, DeMarinis distorts film strips so that we can experience them as physical objects as well as mediums for waking dream states. In the best of these, he stretches out the famous tracking shot of the endless traffic jam in Godard's Weekend, turning it into a static panorama. Instead of the camera moving for us, we become the camera in the act of scanning this horizon line of vehicular mayhem.
Photographer Robert Dawson pays magnificent tribute to the eternal values of real (as opposed to virtual) libraries. Consider the imposing yet contemplative classical interior of the Woburn Public Library, Woburn, Massachusetts—a church of knowledge built during the Great Depression. Joel Leivick contributes oddly disturbing gelatin-silver prints of tangled underbrush and gnarled, mossy tree branches reclaiming an abandoned wooden boat, as if the mast had recognized its arboreal cousins and reverted to wildness.
As for the return of the untamed, Lukas Felzmann's remarkable Gull Juju series comprises scores of small color photographs of human-made flotsam swallowed and then expelled by seagulls. Plastic figurines, children's toys, poker chips, charms, keys, swizzle sticks and a chunk of someone's credit card—these strangely preserved totems speak to the larger ecological catastrophe that is the soup of floating plastic trash that threatens our oceans.
The most overtly pedagogical of the artists is John Edmark, who displays a simple but endlessly fascinating Kinetic Spiral Tower made from nothing more than narrow pieces of wood assembled into hinged rectangles with tape. He also contributes a light-box that allows visitors to sit and create kaleidoscopic displays with just some colored paper shapes. It is called, cleverly, a Geometron, and it proved irresistible to all ages on the day I visited the center.
FROM THEIR STUDIOS shows through Jan. 3 at the Cantor Arts Center, Stanford University. Admission is free. On Nov. 5 at 7pm, Terry Berlier gives an artist's lecture at the center. (650.724.3600)
Send a letter to the editor about this story.