11.04.09
home | metro silicon valley index | silicon valley restaurants | preview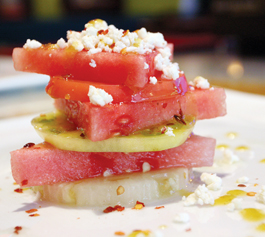 Photograph by Felipe Buitrago
LAYERED GOODNESS: Sakoon turns feta, watermelon and tomato into a gem of a salad.
Indian Evolution
The future of Indian cuisine is on tasteful and tasty display at Mountain View's Sakoon
By Stett Holbrook
I HAVE TASTED the future of Indian food, and it's really good. Mountain View's Sakoon restaurant is rooted in classic Indian food that draws on regional styles from across the subcontinent, but executive chef Sachin Chopra uses that as a point of departure to take Indian food in new and exciting directions.
What we call traditional Indian food today is the product of cross-fertilization and influences from other cultures over the past five centuries. Change is the status quo. Eating at Sakoon allows diners to taste this evolution in real time.
Walk in the door, and you know right away this isn't another curry and kebab restaurant. Chandeliers made from fiber-optic lights, glowing floor panels and a plush, loungelike interior set Sakoon apart from every other Indian restaurant in Silicon Valley. There's a small but lively looking bar adorned with colorful hanging lamps and backlit panels of luminous mosaic.
The food at Sakoon is like Chopra himself, well traveled and cosmopolitan yet fundamentally rooted in India. Chopra grew up in New Delhi and went on to graduate from the Culinary Institute of America in New York. He first worked as a line cook at New York City's famed Daniel restaurant and later became sous-chef at the Grand Hyatt Hotel in New York City. After a stint as a private chef, Chopra was hired as executive chef at New York City's Tiffin, a restaurant that specialized in fusion Indian cuisine. Then he opened his own place, Tapasserie, a small-plates restaurant that combined the flavors of India, Spain and the United States. A year later, he became executive chef/partner at Spice Grill, also in New York. He was recruited as executive sous-chef at San Jose's beloved Amber India and later became executive chef at Mantra in Palo Alto, two restaurants that exemplify modern Indian food.
At Sakoon, Chopra is pushing the boundaries of Indian food even further. Take the superb sea scallop appetizer ($10). Marinated with smoked Spanish paprika, the fat and juicy scallops are paired with a mango and garbanzo bean salad and a rich drizzle of roasted pepper/tahini sauce. You won't find a dish like that anywhere else in Silicon Valley.
Although the season for it has passed, the beautifully composed coriander-dusted watermelon, tomato and feta salad ($7) is another gem.
The avocado jhalmuri aloo starter ($6.50) is a contemporary take on a classic Indian chaat, a little street-vendor snack. The cylindrical mound is built with layers of creamy, ginger-scented potato salad, sliced avocado and the crunch of puffed rice (puri) and wheat (sev) on top. It is served with little pitchers of mint and tamarind chutney, the same as you would get if you were buying a snack from a street vendor in New Delhi.
The sea bass tikka ($20) combines a tangy southern Indian spice-and-coconut marinade, which is served over a bed of asparagus rice. I haven't had a more perfectly cooked piece of fish in a long time.
The lavender-and-thyme-scented rack of lamb ($22) leans more Mediterranean than Indian and is one of Chopra's signature dishes. Although the meat was supremely tender, I found the pairing with spicy-sweet pear chutney and curry-leaf-flavored mashed potatoes too busy and muddled.
Not every dish gets a modern update. Saag pasand ($15) is a classic version of the creamy stewed-spinach dish that's even better with the subtle bitter bite of mustard greens added into the mix. Murgh sakoonwala ($15) is a pleasantly spicy, curry-bathed chicken dish that draws on the flavors of the Mughuls, the central Asian conquerors who ruled most of India in the 17th and 18th centuries.
There's an appealing lunch buffet for $11.95 served Monday–Friday and $12.95 on weekends, but the real action is at dinner.
The food and décor are the restaurant's strengths. Service is not. The servers are uniformly friendly and willing to please, but many are poorly informed about the menu and do a disservice to Chopra's cooking with their spotty knowledge. This applies to the cocktail and wine list, too. Indian food can be challenging, but that just means thee servers need to study the menu and ask more questions before hitting the floor.
The first dessert I tried was the delicious, light and refreshing chilled coconut-lime soup ($7) enlivened with caramelized lychee and almond brittle. It promised a new world of Indian desserts beyond the hypersweet regulars like gulab jamun and halwa. Alas, it was not to be. There are some nontraditional desserts on the menu, but they are poorly executed.
After cracking through the thick sugar crust of the triple chocolate crème brûlée ($7), I excavated a decent layer of custard, but below was an overly dense bedrock of milk, white and dark chocolate fudge ($7). The macadamia nut and chocolate kulfi ($7) missed the mark, too. The cubes of chewy frozen chocolate and kulfi had the consistency of frozen fudge rather than the gelatolike richness of milk-syrup-based ice cream.Nevertheless, Sakoon is well on the way to establishing itself as one of the Bay Area's pre-eminent practitioners of modern Indian cooking.
---
Sakoon
Address: 357 Castro St., Mountain View.
Phone: 650.965.2000.
Hours: Lunch 11:30am–2:30pm Mon–Fri and noon–3pm Sat–Sun; dinner 5–10pm Mon–Thu and Sun, 5:30–11pm Fri–Sat.
Cuisine: Modern Indian.
Price Range: Most entrees $15–$22.
Web: sakoonrestaurant.com.
Send a letter to the editor about this story.