11.04.09
home | metro silicon valley index | movies | current reviews | review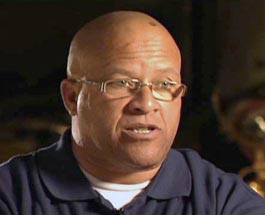 TWICE BURNED: East Palo Alto mechanic Rick Walker spent 12 years in prison for a crime he didn't commit—then came the real injustice.
Last-Minute Justice
Documentary '$100 a Day' exposes a flaw in the system
By Michael S. Gant
TALK ABOUT double jeopardy. In 1991, Rick Walker, an independent auto mechanic living in East Palo Alto, was wrongfully convicted of murder, mostly on the basis of questionable testimony. Years later, the witness confessed, and Walker was exonerated. Having spent 12 years in San Quentin, Pelican Bay and other hard-core prisons, Walker was punished again by a quirk in the law. While the average prisoner is given some money and assistance upon release, an exonerated prisoner must wait for special legislative appropriation bills to receive the paltry $100 a day for each day of wrongful imprisonment mandated by California statute.
The documentary $100 a Day charts the efforts made by then–state Assemblyman Joe Simitian (now a state senator) to persuade his legislative colleagues to fund recompense for Walker. The 2003 budget hearings, however, were mired in a game of partisan chicken, with the Republicans refusing to vote on any bills requiring a two-thirds majority to pass. Down to the last moments of the session, Simitian made a heartfelt plea for the Assembly to put aside its differences to help one aggrieved man.
The 30-minute-plus documentary by Santa Cruz–based filmmakers Gwen Essegian (who worked for Simitian after his election to the state Senate) and Mark Ligon, includes interviews with Walker; Alison Tucher, the Stanford law student and lawyer who worked tirelessly on his case; Sacramento Bee reporter Jim Sanders, who covered the story; and even former Santa Clara County DA George Kennedy, who remarks soberly upon a case gone very wrong (Walker eventually won a judgment against Santa Clara County). But the meat of the film comes in the footage of the legislative session, as politics threaten to override simple justice. Simitian shows an admirable streak of perseverance in the face of considerable odds, and the final roll-call vote is a real nail-biter.
$100 A DAY, a documentary by Gwen Essegian and Mark Ligon, airs Thursday (Nov. 5) at 6:30pm on KTEH (Channel 10 or 54).
Send a letter to the editor about this story.