11.04.09
home | metro silicon valley index | movies | current reviews | review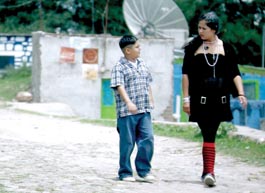 VILLAGE VOYAGER: A young woman visits a small Mexican village in 'Yveete.'
Latino Screens
San Jose hosts S.F. Latino Film Festival for four days
By Michael S. Gant
THE ANNUAL SAN FRANCISCO Latino Film Festival includes four days of films in San Jose, Nov. 9–12. On Monday, Gary Marks' 2007 documentary Dream Havana, a Story of Friendship, Choice and Separation shows at San Jose State University at 4pm. The film looks at the dilemma faced by two Cuban writers in 1994—one chose to take a perilous boat journey to the United States, the other stayed in Cuba. On Nov. 10, MACLA hosts screenings of Forgotten Injustice (6pm) and Yveete (8pm). Forgotten Injustice is a documentary about the Mexican-American workers expelled from the United States during the Depression of the 1930s. Yveete is a drama about a young Chicana who travels back to a small Mexican village.
On Nov. 12, two more films will screen at MACLA: Meet the Head of Juan Perez (6pm) and Last One for the Road (8pm). In Emilio Portes' feature, the severed head of a magician named Juan Perez relates the tale of how he came apart, thanks to circus problems and a 16th-century guillotine. In Last One for the Road, three young rich people embark on a night's adventure in Mexico City and come to very separate conclusions.
The festival has also booked an evening at the Tech Museum on Nov. 11 at 6pm for Daniel Ro's The Watercolorist, the story of a man's dream of painting.
This is the week for Latino film. Redwood City is hosting three nights of Latino films, Nov. 6–8. (See www.redwoodcity.org/LatinoFilmFestival for details.)
THE LATINO FILM FESTIVAL screens films Nov. 9–12 at various locations in San Jose. Shows are $8/$10. See www.sflatinofilmfestival.com for details.
Send a letter to the editor about this story.