11.04.09
home | metro silicon valley index | music & nightlife | band review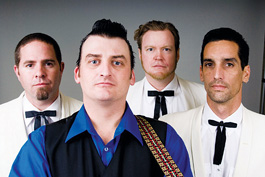 DEAD RINGERS OF FIRE: Cash'd Out fell intoan uncanny ability to imitate Johnny Cash.
Cash'd Out
By Beau Dowling
ELVIS impersonators are a dime a dozen. But someone paying tribute to the Man in Black, well, that's a whole different ballgame. Cash'd Out does an exceptional job of bringing the unmistakable sound of Johnny Cash to the stage. First and foremost, does Douglas Benson sound like J.C.? Yeah, he really does. He even looks like him, too. Second, do they respect the music? Of course they do, and they don't turn into some crummy Las Vegas act you'd see at 4am while spending your last dollar on Kenny Rogers' slot machine in a dive casino. Not that I'd know anything about that. Still need another reason? They even have a guy that looks like Luther Perkins. Now that's commitment to a bit.
CASH'D OUT plays Friday, Nov. 6, at 9pm at the Blank Club, 44 S. Almaden Ave., San Jose; cover is $12. (408.29BLANK)
Send a letter to the editor about this story.