11.04.09
home | metro silicon valley index | music & nightlife | band review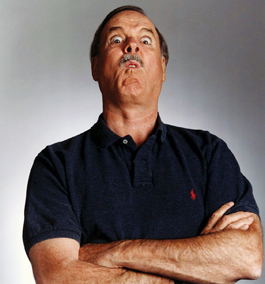 JOHN CLEESE AWAITS: With nasty, big, pointy teeth.
John Cleese
By Steve Palopoli
AS we take a look back at the incredible career of John Cleese, it's impossible not to quote Monty Python. This is not because Cleese hasn't accomplished plenty on his own; for instance, as the star of the classic comedy A Fish Called Wanda, or Fawlty Towers. It's because the legendary British comedy troupe has soaked through so much of our pop culture fabric, sometimes quoting Monty Python is more like a reflex than a voluntary act. For newbies, here are three examples of how this phenomenon might come up in real life: (1) Whenever anyone asks you your favorite color, say "Blue! No, yelllll ..." and then act like you're falling off the Bridge of Death. (2) Whenever you're in a roomful of people and someone yells for "David," wait till the guy says, "I'm David!" and then say "I'm David—and so's my wife!" (3) Whenever your friends point out that your parrot has died, say "It's not dead! It's resting!"
Anyway, it's not clear exactly what Cleese will be speaking about on this tour, but really, does it matter? The guy can be funny about anything, as proven on his appropriately surreal blog, www.cleeseblog.com.
JOHN CLEESE performs Sunday, Nov. 8, at 8pm at the Fox Theatre, 2215 Broadway, Redwood City. Tickets are $50–$66; 800.745.3000.
Send a letter to the editor about this story.