11.05.08
home | metro silicon valley index | the arts | visual arts | review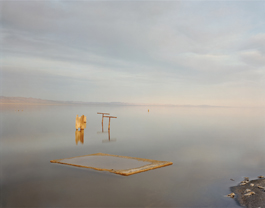 © Richard Misrach, Courtesy Fraenkel Gallery, San Francisco, Marc Selwyn Fine Art, Los Angeles and Pace/MacGill Gallery, New York
VISTA: Richard Misrach's 'Dead Fish, Salton Sea,' 1983, plays a few tricks on the eye.
Air Misrach
Richard Misrach shows off his 'Bigger Picture' images at the Palo Alto Art Center
By Ben Marks
THERE ARE many photographers who make it their business to capture the best possible view of an extraordinarily beautiful natural setting, to wait for that perfect moment when sunlight momentarily breaks through thunderclouds to reveal the endless shades of red in an infinitely contoured outcropping, creating the best two-dimensional rendition of a three-dimensional place that time and technology can buy. Richard Misrach, whose "In the Bigger Picture: Richard Misrach" exhibit is at the Palo Alto Arts Center, has always struck me as an artist who is equally interested in the space between his camera and the vanishing point that is its ostensible target. Not that he does this all the time, but you know you are looking at a Richard Misrach photograph when he does it right.
Salton Sea (View From Bombay Beach), 1985, is perhaps one of the best examples of what I call Air Misrach. In this large-format photograph, a still sea and milky sky reflected in it almost ooze together, obscuring the horizon line and "view" promised in the title. We can't focus on the horizon because there's just so much air in the way, which Misrach invites us to reach out and touch. At this section of Bombay Beach, on this day, anyway, the "view" is apparently just beyond at the end of your outstretched hand. Dead Fish, Salton Sea, 1983, distracts us from the subject at hand in a different way, although the title still plays a role in the visual trickery. Here our eyes are drawn to a pair of T shapes that poke without the benefit of context from a flooded portion of the Salton Sea; if we squint, we can see a seagull sitting atop a pole of some sort far behind them. And the "dead fish"? They are out of sight in plain view at the bottom-right corner of the photograph, a whole bunch of them, washed up on the beach, in varies stages of decomposition and decay. No need to pull our eye here first, I suppose, we'll get there soon enough.
Misrach is less sure-footed when humans enter his pictures. In Tourists, 1994, there's a subtle underlying sense of judgment that strikes me as unfair. A small group of people—two for sure, could be three—stand at the end of a path, their progress halted by a park-service railing. These fools, the picture seems to be saying, are in the middle of this amazing wilderness, and yet they choose to hike to the only spot in this entire unfenced landscape that's been hemmed in. Well OK, but they were just following directions, after all. Why blame them for being where they have been asked to be?
Better is Golden Gate Bridge, 10.31.98, 5:22pm, 1998, which focuses on several Neapolitan-ice-cream-sandwich layers of sky—from bands of muddy purple to cloudy white to pinkish red—rather than the bridge that faintly stands, a comparatively small gesture, in the evening gloom far, far below. If the point of Tourists is to suggest that our place in nature is small and mediated (duh), Golden Gate Bridge suggests that however small our place, the view remains incomprehensibly grand.
IN THE BIGGER PICTURE: RICHARD MISRACH runs through Dec. 21 at Palo Alto Art Center, 1313 Newell Road, Palo Alto. Free. (650.329.2366)
Send a letter to the editor about this story.