11.05.08
home | metro silicon valley index | silicon valley restaurants | review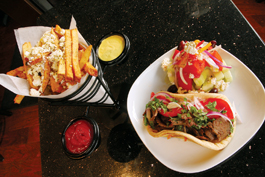 Photograph by Felipe Buitrago
FRY GUYS: Opa's fries may not be famous yet, but they are feta-rific.
Beauty and The Greek
Stylish Opa! captures perfect Willow Glen vibe for the times
By Stett Holbrook
OPENING a restaurant as a swirling black hole of financial doom threatens to engulf the country has got to be nerve-wracking. But whether it's luck, a sound business plan or both, 6-week-old Opa! restaurant seems perfectly attuned to these rocky economic times.
Opa! serves affordable and generally delicious Greek-American food in a modern, urbane setting. With stylish décor, a cozy dining room and a friendly neighborhood vibe, the restaurant occupies the sweet spot between fast food and fine dining, the kind of place that's nice enough for a night out, but cheap enough that it doesn't feel like a splurge.
The restaurant is the work of George and Spiro Tsaboukos (co-owners of the Los Gatos Diner and Lou's Coffee Shop) and first-time restaurateurs Matthew Sneed and Angelo Heropoulos. With a few exceptions, the menu reads like the greatest hits of Greek food—souvlaki, gyros, lamb chops, dolmades and spanakopita. Heropoulos, an attorney who also owns a construction business, says the food is authentically Greek, but toned down a bit for the masses. He calls it "California-cuisine-friendly Greek food. We're all Greek, so we know what Greek food is supposed to taste like," he says.
During my two visits, the narrow, 40-seat restaurant was crowded with a lively, appreciative crowd. On one lunch visit, people waited on the sidewalk out front for a table. Coupled with the Greek pop tunes and flat-screen TV playing inside, all those people packed into a tight space make it quite loud. This isn't the place for quiet conversation.
I like the variety of appetizers and dips on the menu. While there are plenty of more substantial items on the menu, a fun and frugal way to go is to mix and match a few of these small plate dishes for tapas-style dining. Melitzanosalata ($5.99) is a classic Greek spread made from fresh-roasted eggplant, garlic and herbs. It's great on the end of some of Opa!'s thick and soft pita bread. I also like the "fiery feta dip" ($5.99), a spicy, pink blend of feta cheese, roasted red peppers, olive oil and garlic. Keftedes ($6.99) could be a small meal for one. The cue-ball-size meatballs made with beef and lamb are hearty and good. I was disappointed, however, with the watery horta ($4.99), sautéed greens tossed with garlic, olive oil and lemon juice.
While most of the starters I tried were good, it's the Opa! fries ($3.99) that will probably generate the most buzz. The freshly sliced, thick-cut fries are topped with creamy feta cheese and a side of Opa! sauce, a tangy blend of mayonnaise, mustard, olive oil, lemon juice, shallots and garlic with the color and consistency of nacho cheese. They're compulsively edible. The owners must have known they would have a hit on their hands, because the menu refers to the sauce as "famous" even though the restaurant just opened. Look out Gordon Biersch. Opa! fries could give your garlic fries a run for the money.
I didn't expect much from the Greek village salad ($8.99), but the freshness and quality of the vegetables make it a standout. The generous salad combines thick slabs of cucumber and sweet and juicy red tomatoes with thinly sliced red onions and bell peppers, Kalamata olives and fresh oregano. I don't know how good the tomatoes will be once we get into winter, but they're at their peak now.
For lunch, pita sandwiches ($8.99) are the clear favorite. Made with more of that spongy pita bread and loaded with plump tomatoes and garlicky tzatziki (yogurt and cucumber sauce), they're substantial. I liked the chicken and beef souvlaki sandwiches best, warm pita bread filled with tangy skewers of grilled meat and topped with fresh oregano and a squeeze of lemon juice.
Skip the avgolemono soup ($5.99). The chicken and rice soup was thick and creamy, but it had an aggressive, almost medicinal lemon flavor that overpowered everything else.
Vegetarians won't be disappointed with the vegetarian souvlaki ($11.99), two skewers of grilled mushrooms, zucchini, red onions and bell peppers marinated in lemon, garlic and oregano. It's available with Opa! fries or a good wild rice pilaf and it makes for a hearty meat-free dish.
Any self-respecting Greek restaurant has got to offer grilled lamb chops, and Opa! scores with its succulent rib chops ($20.99). The trio of chops are wonderfully plump and juicy and the oregano and lemon juice sprinkled on top really sets them off.
The Greek yogurt dessert ($6.99) redefines the words creamy and rich. The yogurt is so thick it could be used to cement bricks. But you don't want to do that. You want to eat it. The addition of Greek honey and ground walnuts makes for a simple but deceptively delicious dessert. However, the addition of honey-glazed strawberries and pineapple is superfluous. The baklava ($6.99) is good but standard-issue stuff.
Maybe the people queuing up at the door reflect Opa!'s novelty of being new, but I'm guessing the crowds will stick around. The nation's financial picture seems to grow more bleak each week, but you still have to eat. Opa's pitch-perfect mix of value and style is right in tune with local appetites and wallets.
---
Opa!
Address: 1384 Lincoln Ave., San Jose.
Phone: 408.998.8704.
Hours: Open daily 11am–11pm.
Cuisine: Greek.
Price Range: Entrees $9.99–$20.99.
Web: www.opawillowglen.com.
Send a letter to the editor about this story.