11.05.08
home | metro silicon valley index | movies | current reviews | dvd review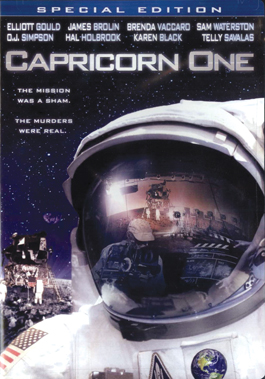 Capricorn One
One disc; Lionsgate; $19.99
Reviewed by Michael S. Gant
Not exactly The Parallax View or Three Days of the Condor, 1978's Capricorn One mined the same rich vein of post-Watergate cynicism and generalized distrust of government. Taking off from a popular urban legend/conspiracy theory about the moon landing, director/writer Peter Hyams' film posited a Mars flight gone wrong at the last minute. To keep the manned-space program from suffering a potentially crippling blow to its credibility, NASA honcho Hal Holbrook delivers an impassioned, almost Shakespearean (at least in length) monologue about the greater good of big-budget science and then sends the three astronauts to a deserted military base where they will fake the landing on a sound stage while the capsule goes up without them. When the empty capsule inconveniently burns up on re-entry, the space jockeys must be eliminated before a nosy reporter (Elliot Gould) uncovers the truth. The detailed launch sequence anticipates The Right Stuff—too bad the astronauts have all the credibility that Josh Brolin, Sam Waterston and O.J. Simpson can provide. Some scenes unfold like a bad play with much wrestling over moral dilemmas; the three space jockeys locked away in their fake-Mars studio sound like low-rent Beckett characters; elsewhere, Hyams, a polished action director (Outland, The Presidio, The Relic), delivers a sensational sequence of a brakeless car (the method of choice for eliminating pesky snoops in the 1970s) tearing uncontrollably through traffic until it vaults off the ascending ramp of a drawbridge. Even better is a vertigo-inducing aerial chase as two military helicopters swoop through steep canyons in pursuit of a crop-dusting biplane with Brolin hanging on the wing like one of the chorus girls from Flying Down to Rio. Done before digital special effects, the acrobatics are genuinely scary. But detail about the conspiracy is skimped while Gould and his assignment editor (David Doyle, who played Bosley on Charlie's Angels) bicker like characters out of His Girl Friday. Lots of cameos: Telly Savalas, Robert Walden (Joe Rossi from Lou Grant), Karen Black and Barbara Bosson (Hill Street Blues). Extras include commentary by Hyams and a short feature about the making and reception of the film.
Click Here to Talk About Movies at Metro's New Blog
Send a letter to the editor about this story.