11.05.08
home | metro silicon valley index | movies | current reviews | dvd review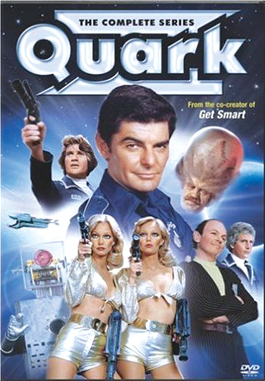 Quark—The Complete Series
One disc; Sony; $19.94
Reviewed by Richard von Busack
Essential viewing for Trekkies. Buck Henry's eight-episode TV series satirized Star Trek early and often, even with the space opera's own distinctive sound effects and a sound-alike score by Perry Botkin Jr. Quark debuted and died in spring 1978 on NBC, despite plentiful jiggle by twins Tricia and Cyb Barnstable (as a communications officer and her clone). Richard Benjamin's stalwart trashboat Commander Quark carries out his intergalactic missions, while being routinely backstabbed from headquarters. (The United Galaxy's ruler is a tetchy giant disembodied head with an English accent: "I was just, as usual, thinking ..."). Richard Kelton, as an emotionless "Vegeton" called Ficus, gives Nimoy-worthy support to Benjamin. The show's pinnacle was a two-parter with Ross Martin of Wild Wild West as space emperor Zorgon the Malevolent; however, Quark demonstrated its absolute Trekkiness in "The Good, The Bad and the Ficus," when Good Quark and Evil Quark are separated by a black hole. Loads of fine tuning occurred between the rather unfunny shot-on-video pilot, which aired in 1977, and later episodes, where the writing and visuals improved and the laugh-track got turned down. The disc includes no extras except for two so-called "minisodes" of half-hour sitcoms, pared down to a few minutes. It's vandalism, even though no one could object to the vintage shows that are butchered: a late-period I Dream of Jeannie with the ever-mischievous Barbara Eden, and an especially berserk Fantasy Island snippet involving Mexican zombies.
Click Here to Talk About Movies at Metro's New Blog
Send a letter to the editor about this story.