11.05.08
home | metro silicon valley index | movies | current reviews | dvd review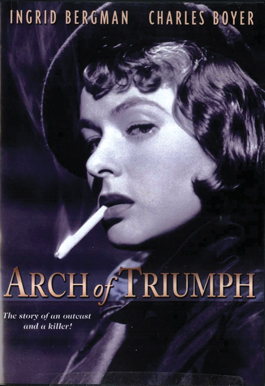 Arch of Triumph
One disc; Lionsgate; $14.98
Reviewed by Michael S. Gant
German novelist Erich Maria Remarque made his name with All Quiet on the Western Front (1929), maybe the definitive look at the suffering of trench warfare (at least for American audiences, who absorbed the message in the famed film adaptation with Lew Ayres). His 1945 novel Arch of Triumph focuses on the behind-the-front-lines woes of refugees in Paris on the eve of World War II. In the 1948 film version, directed by Lewis Milestone (who did All Quiet), Charles Boyer plays Dr. Ravic, a sawbones on the run from the Nazi. Without the proper papers, he must keep a low profile in Paris, with the help of Boris (Louis Calhern), a Russian colonel reduced to working as a doorman at a nightclub (like Emil Jannings in The Last Command). One night by the Seine, Ravic talks a beautiful but desperate fellow refugee, Joan Madou (Ingrid Bergman), from committing suicide. An affair follows that threatens Ravic's tenuous existence one step ahead of the invading Germans. The setup echoes Casablanca, but while sleepy-eyed Boyer was born to play men without passports, Bergman makes her character fickle and brittle, rather than soulfully conflicted. When Ravic is booted out of Paris for a few months, Joan takes up with a playboy. After Ravic's return, the two lovers engage in an increasingly shrill series of "I love you/I hate you/I can't live without you" spats. Unlike Casablanca, there is no revelatory backstory to add depth to Ravic and Madou's attachment. Strangely, a potentially suspenseful subplot about Ravic taking revenge on the porcine Nazi (Charles Laughton, prissy and menacing at the same time) who tortured him in Germany dissipates into a false climax. Bergman is, as usual, stunning to look at, especially in the gowns and jewels showered on her by her sugar daddy. Cinematographer Russell Metty (equally adept at black-and-white with Orson Welles and color with Douglas Sirk) gives the film a silky palette of nighttime shadows and glistening raindrops; backlot Paris never looked so good. No extras.
Click Here to Talk About Movies at Metro's New Blog
Send a letter to the editor about this story.