11.05.08
home | metro silicon valley index | movies | current reviews | film review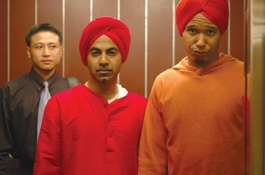 Horn OK Please Entertainment
STAR DREAMS: Ajay Naidu and Kory Bassett compete in a 'Desi Idol' competition in 'Loins of Punjab Presents.'
Indian Idols
Contestants come from far and way for 'Desi Idol' show in 'Loins of Punjab Presents'
By Richard von Busack
DIRECTOR Manish Acharya's semimusical melting-pot comedy gets to touch on the new immigrants. In New Jersey, the musical contest "Desi Idol" is the focus for a mixed group of South Asian contestants. They include the snooty Rrita (Shabana Azmi) and Sania, an actress (Seema Rahmani). Also among the contenders is Josh, a white American with I guess what you'd call "junglee fever" (Michael Raimondi); he's in on the Indian culture and, in particular, one representative of it: Opama (Ayesha Dharker, the co-star of the Cinequest hit Outsourced and the bearer of one of the widest smiles in the movies).
Perhaps the most likely winner is a gay Sikh called "Turbantorious B.D.G.," played by the hardworking comic actor Ajay Naidu of Scary Movie 3, et al. Sample rap: "I have so much more/ I have filming deals with Shashi Kapoor ... my rhymes are like Rabindranath Tagore. All the old schooler call me 'Maharaj'/ I pick up sweeties at the Hotel Taj." Animation from his video is sampled from former Santa Cruz's Nina Paley's film Sita Sings the Blues, on which director Acharya did some voice work. (Read a review online at www.metroactive.com)

LOINS OF PUNJAB PRESENTS (Unrated; 88 min.), directed by Manish Acharya, written by Acharya and Anuvab Pal, photographed by Arvind Kannabiran and starring Shabana Azmi, Ajay Naidu and Kory Bassett, opens Nov. 7 at Camera 3 in San Jose.
Click Here to Talk About Movies at Metro's New Blog
Send a letter to the editor about this story.