11.05.08
home | metro silicon valley index | movies | current reviews | film review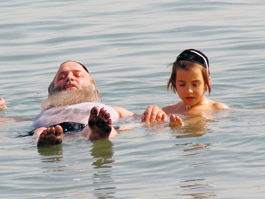 FLOATERS: Menahem (Ilan Griff) and his father, Abraham (Assi Dayan), enjoy a day at the Dead Sea.
The Servant
The Silicon Valley Jewish Film Fest showcases David Volach's powerful debut, 'My Father, My Lord'
By Richard von Busack
THE ISRAELI tragedy My Father, My Lord, playing one night (Nov. 6) at the Silicon Valley Jewish Film Festival, is only about 70 minutes long. Still, you'll know you've really seen something. It is the debut film by David Volach. Today an atheist, Volach was raised in what is variously spelled as the "haredi," or "chareidi." tradition. The word derives from "fear," as in the awe with which God must be approached.
Volach has made the kind of movie that only someone in his middle years could have made about his childhood. A younger man would have been too angry. Rabbi Abraham (played by Moshe Dayan's son, Assi) starts his days with a muttering of prayer: "I gratefully thank you, eternal king, for you have returned my soul." Then this plump, comfortable man ambles to his son's bedside.
The adorable Menahem (Ilan Griff) is about 8. He is being raised in all the traditions of the faith and is quizzed on matters of the religious law. His doting mother, Esther (Sharon Hacohen), pampers the boy when his father is out of sight. Volach cuts on the mother's dialogue, so she can seem more watchful, shy and mysterious.
It is not common for haredim to have just one child; Volach, for example, was one of 19 children. The ages of the parents (the hulking Dayan is in his 60s, and Hacohen is in her 40s) suggest that Menahem came to the couple late in life, just as Isaac came to the other Abraham.
Menahem is an obedient son who sits at his father's right side when he addresses his congregation. In the library, he stays by his father's side, until he is half-asleep from the silence and heat and dimness of the room.
Three incidents of friction take place. At school, Menahem collects a trading card for his scrapbook. It is a picture of a painted African. The question is whether this African is actually worshipping an idol by beating a drum. Surely it is idolatry, says the rabbi father, who orders the boy to tear up the card.
On his way home one day, the boy sees a neighbor fall ill, and her pet Alsatian tries to jump into the ambulance. This makes Menahem ask his father if dogs have souls. Rabbi Abraham thinks upon the question, which leads to a Talmudic story about the modesty of cats and thus into a discussion of God's providence regarding animals and the Chosen. Those who don't believe are in the same category as animals, with none of that His-eye-is-on-the-sparrow stuff for them.
With great subtlety, Volach introduces a strain of religious bigotry into Rabbi Abraham, and it is a triumph of Dayan's acting that we accept this fact tranquilly. We stick with him even in the third, cruelest episode. Abraham is asked to clear out a dove's nest, since the birds have sheltered themselves in the windowsill of a school. The rabbi justifies the act of driving the mother dove away on the grounds that the Torah orders it.
This incident with the birds occurs just as Abraham, Menahem and Esther are about to leave on a shuttle bus for a beach trip to the Dead Sea. The sea is a magic place for Menahem even if it is not that inviting to us, a Salton Sea–like puddle, a muddy beach, sexually segregated. During one more round of prayers, tragedy strikes.
Interviewer George Robinson learned from Volach how much Polish director Krzysztof Kieslowski influenced him. Maybe the following sequence in My Father, My Lord was inspired by the way Kieslowski used 1 Corinthians in Blue. Here, it is Psalm 121 recited, with Abraham praying, "I lift up my eyes to the hills ..." followed by a cut to a blank sky and then to the control panel of a helicopter. The loudspeaker from the copter chants this psalm to the faithful below, waiting on the beach.
Then comes the full realization of tragedy: No matter what happens, Abraham will still praise the Infinite, as he is required to do. The Infinite demands praise, no matter what. Yet it is a silent act of rebellion that ends the movie, and sends us away with a kind of hope.
Should we have that hope? The truly devoted are usually hardened by loss, blinkered by it. Still, it is easy to recommend this first-rate film. Volach is as gentle yet intense as Terence Davies in Distant Voices, Still Lives, always alert to the many tones and undertones—not just the unspoken love—between a mother and a son, or a husband and a wife.
There is also humor in how the film shows us the different ways members of a congregation sway in prayer (one figure in great ecstasy, another pondering, winding his finger in his beard as he communes with the ineffable). There is lightness, too. It comes in the image of the men floating on the brackish water during their Dead Sea swimming party, one reclining, reading his newspaper as he floats.
I should have made it clear over the years that I don't have a religious bone in my body, but I understand that drama is often made up of the conflict between fate and man. That dynamic constitutes the essence of My Father, My Lord. And in this brief, surprising film, Volach has made an essay on the conflict between the spirit and the letter of the law: an eternal subject for good movies.

MY FATHER, MY LORD (70 min.), directed and written by David Volach, photographed by Boaz Yehonatan Yaacov and starring Assi Dayan, Ilan Griff and Sharon Hacohen, plays Thursday (Nov. 6) at 7pm at the Cubberley Theater, 4000 Middlefield Road, Palo Alto as part of the Silicon Valley Jewish Film Festival. (www.svjff.org)
Click Here to Talk About Movies at Metro's New Blog
Send a letter to the editor about this story.