11.05.08
home | metro silicon valley index | music & nightlife | band review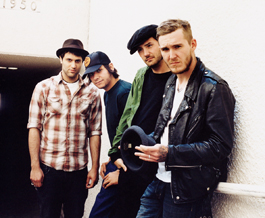 WORKING CLASS:
The Gaslight Anthem gets it.
New Jersey's Trash
The Gaslight Anthem sings about the new desperation
By John Gentile
IT'S been said that New Jersey is the armpit of America. Between the landfills, the product-soaked hair and, frankly, the smell, the Garden State has a lot wrong going for it. But somehow the mixture of boring landscapes and mediocre diners has forged some of America's most soulful singers, including Frank Sinatra, Bruce Springsteen, Lauryn Hill, as well as huge arena rockers like Bon Jovi and Skid Row.
With an opening slot at the Rise Against show at San Jose State Event Center this Friday, the Gaslight Anthem are positioning themselves to be the next unlikely New Jersey success story. Despite critical acclaim for their first album, the band was, until recently, relatively unknown outside punk circles. Now even big league players like Rolling Stone are giving them props. So why is the band hitting it big now?
"The work that we did in the beginning is coming to fruition," says lead singer Brian Fallon. "It seems like it's a miracle to me ... but then all of a sudden it might unravel. We're ready for that. But for right now, maybe people were ready for us just because of how things are in country."
Their second album, The '59 Sound, has expanded their fan base exponentially, and now the members of Gaslight Anthem find themselves in a threatening position. So far, they've built their career with rockers about broken hearts, financial desperation and just being real, and the Gaslight Anthem is fighting tooth and nail to stay genuine.
"We don't count how many kids are out there every day," says lead singer Brian Fallon. "We know how to play in front of two kids and we know how to play in front of 5000 kids." But Fallon also says that the band isn't aiming for obscurity, "You want everyone to hear it. When you're performing, you feel like you are really communicating with a large group of people. Audience size matters to every band on a different level—to us it matters on a level of honest communication."
Despite their growing popularity, the band has prepared for the possibility of superstardom by not preparing for it. "That kind of thought can drive you crazy as a band," says Fallon. "I come from a very working-class mentality and I do this music for respect for my listeners, the people in my band, and my family. It's just like when I did construction—it's someone that's hired you for your job, so you do the best you can, no matter what."
The Gaslight Anthem seem to be hitting it big on their second album—the very thing that usually sends flash-in-the-pan groups to the discount bin. "We've still got a lot to say," says Fallon. "A lot of bands release stuff too quickly, but you can only speak when you're ready to speak. Kids know when you're selling them garbage."
THE GASLIGHT ANTHEM opens for RISE AGAINST, ALKALINE TRIO and THRICE on Friday (Nov. 7) at 6:30pm at San Jose State Event Center, 290 S. Seventh St., San Jose. Ticketsare $29.50. (408.998.TIXS)
Send a letter to the editor about this story.