11.05.08
home | metro silicon valley index | music & nightlife | band review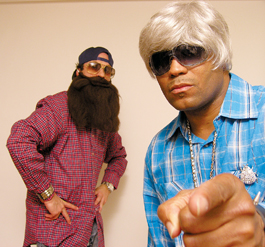 BLACK ELVIS IS IN THE BUILDING:
Kool Keith and Kutmaster Kurt, incognito.
Mister Personality
A peek at Kool Keith's career
By David Ma
KOOL KEITH has been hustling since the '80s, switching labels, personas and producers throughout his prolific career. He's also been known to perform wearing nothing but a cape, an Elvis wig and pink Speedos. Longtime fans will also confirm that bags of fried chicken and Capri Suns are thrown into the audience during his live shows. To say he's eccentric is an understatement, but these antics add a funny mystic to an already celebrated catalog.
In the mid-'90s, Keith left New York and went West to work with Bay Area beat makers Kutmaster Kurt of Santa Cruz and Dan the Automator of San Francisco. The results are his best solo works to date—the hilarious Sex Style and Doctor Octagon albums. Both of which were followed by two more wildly popular projects, Black Elvis: Lost In Space and Dr. Dooom.
Keith still actively records and tours nowadays, but rarely does interviews. As a fan of his cartoonishly crass rhymes, I was delighted to talk with him and briefly pick his brain. Bags of fried chicken and Capri Suns? Who does that?
METRO: Good to finally talk to you. How'd you start rapping?
KOOL KEITH: I actually started off as a dancer in New York City. I was a good dancer.
Critical Beatdown is considered a classic hip-hop record and was the first time many heard you. What do you think when you hear it now?
I think my voice changed [laughs].
Artistically speaking, what about those early days do you recall?
I remember having to tone down a lot of my words and content because it would have been too advanced at the time. Not that I was smarter or anything, but some people would've been turned off if I did what was in my head at the time.
Who are some of your favorite rappers? What rappers from your era do you think have aged well?
I listen to a lot of mixtapes, so I listen to everyone. I listen to all the current rappers so I know [about] what's current and try to be different. The only other person whose records still sound fresh today as it did back then is, I'd have to say, Kool G Rap. That's it. Everyone else is stuck in a time warp. That's why I don't attend functions where a lot of these really old rappers are gonna be at because they're just moping about.
You've had a lot of celebrated projects—which is your favorite?
I don't have a personal favorite. They all have a different soul to them and not one is particularly special to me. They're all albums of certain times. They're all different in their own way, ya know?
Those albums were all over the span of about 10 years or so. Nowadays, you release project after project. What's up with that?
I'm just writing all the time and I like to stay busy. I listen to rappers from all over the map. I stay observant to transitions and change. I listen to timing and stuff. I'm like a baseball player who watches pitchers.
You've been around long enough to see hip-hop mature and change. What are your thoughts on its growth?
I ask myself: "What the hell does professor Cornell [Cornell West of Harvard University] have to do with rap? Why he talking about it like he knows it? I've never seen dude in my 'hood or seen him with Grandmaster Flash? A lot of these commentators act like they're scientists of hip-hop, but have nothing to do with it. That's what bothers me the most. I'm not sick of hip-hop, I'm sick of how it's viewed. Dudes don't even know what Technics are.
How do you think you'll be remembered—greatest rapper, funniest rapper, weirdest rapper, what?
I'll be remembered as a person who started a lot of stuff.
Like tossing sandwich bags with fried chicken and Capri suns into the audience?
[laughs] Everybody likes a fried chicken leg and juice boxes, right?
Seriously though, you've been considered a trendsetter throughout your career. Is that fair to say?
I think a lot of things in music, what I did when, what I did where, will always come back to me. People will pick certain artists and attribute them with being originators when they weren't. I think certain writers and companies aren't concerned with documenting history so much as they wanna document their version, or what would be most popular. I think the true heads will remember me for the right reasons.
KOOL KEITH AND KUTMASTER KURT perform with THE FAINT on Saturday (Nov. 8) at 8pm at the Warfield, 982 Market St., San Francisco. Tickets are $23–$25. (408.998.TIXS)
Send a letter to the editor about this story.