11.07.07
home | metro silicon valley index | the arts | books | review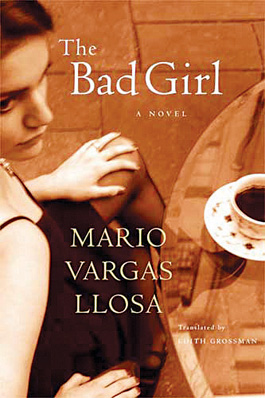 The Bad Girl
Review by Michael S. Gant
Unrequited love is a bitch, literally, in Mario Vargas Llosa's new novel. "Lily," as her name is first given, won't stay put, despite the endless devotion of narrator Ricardo Somocurcio, a Peruvian youth who meets a mysterious girl from Chile as a teenager in 1950 and spends the rest of his life adoring her. Physically passionate but emotional cruel, Lily keeps changing identities and showing up unannounced in Ricardo's life in Paris and London, where he works as a UNESCO translator. Smitten anew each time, decade after decade, Ricardo tells his eternal love "cheap sentimental things," and she sticks around just long enough to break his heart again. "How naive you are, what a dreamer," she mocks him. "You don't know me. I'd only stay forever with a man who way very, very rich and powerful." Pathetically, he cherishes a toothbrush as a totem of their intermittent affair, while she finds excitement in politics, as Comrade Arlette training in revolutionary Cuba; pursues raw fortune; and eventually, in a weird Story of O detour, humiliates herself as the plaything of a kinky Japanese gangster. But the Bad Girl is never a fully realized character; she is a construct on which Somocurcio/Llosa can hang a lifetime of social and political observation. Indeed the best parts of the story focus on the rise and fall of political idealism in Peru and France ("Peru is confusion, nephew, you did the right thing when you went to live in the country of Cartesian clarity," his uncle tells him), and the sexual upheaval of London in the 1960s. Llosa can conjure up the past with great allure, remembering the honeysuckle-covered verandas of Lima's Miraflores district or recalling young Lily's "mambistic feats" on the dance floor, but Ricardo's tale of woe finally wears thin. He's like Charlie Brown, who can't refuse Lucy's offer to kick the football, even when he knows she will forever pull it away at the last moment.
(By Mario Vargas Llosa, translated by Edith Grossman; Farrar, Straus and Giroux; 276 pages; $25 cloth)
Send a letter to the editor about this story.