11.07.07
home | metro silicon valley index | the arts | books | review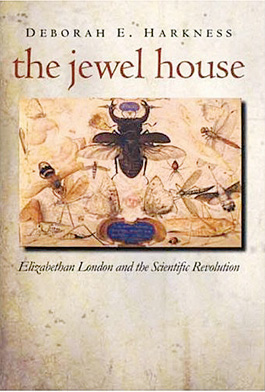 The Jewel House:
Elizabethan London and the Scientific Revolution
Review by Michael S. Gant
Viewers of Cate Blanchett's Elizabeth might have ignored Richard Attenborough's milk-toasty Sir William Cecil in favor of Geoffrey Rush's Cheneyesque Sir Francis Walsingham. But as historian Deborah E. Harkness shows in The Jewel House, Cecil played a key role in "transforming the fortunes of England" in the second half of the 16th century. Through shrewd investments in exploration and new weapons technology, Elizabeth and Cecil pioneered government-driven "big science." Cecil in particular was a shrewd science scout with a wide circle of informants, experts and advisers. As Harkness notes, with a light touch unusual for such a technical study, "As far as Cecil was concerned, being found guilty of counterfeiting settled an unmistakable aura of authority on a metallurgist." The big science cultivated by Elizabeth and Cecil was built upon the foundation of fervent empirical activity throughout London. With an admirable attention to archival detail, Harkness brings to life a variety of characters, from the contentious naturalists of Lime Street to a freelance surgeon at the Royal Exchange who lured customers with his "collection of extracted bladder stones removed from reportedly happy and healthy patients." With the rise in literacy rates and an influx of skilled foreigners, London teemed with people studying nature and testing their own experiences—leading eventually to the empirical methods of the Enlightenment. To sum up the period, Harkness pits Francis Bacon, who envisioned science as a pursuit for elite scholars, with the fascinating Hugh Plat. A hands-on type, Plat experimented with everything from fighting fires and purifying saltwater to parlor tricks (including casting "frightening apparitions in a urinal"). In his volume of popular science, The Jewel House of Art and Nature, Plat generously argued that "the true and useful understanding of nature must be linked to some form of doing" and that anybody with an inquisitive mind could participate in the great intellectual adventure that became the Scientific Revolution.
(By Deborah E. Harkness; Yale University Press; 349 pages; $32.50 cloth)
Send a letter to the editor about this story.