11.07.07
home | metro silicon valley index | music & nightlife | band review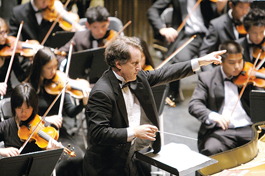 YOUTH MOVEMENT: Leo Eylar conducts the California Youth Symphony Sunday.
Classical Moves
By Michael S. Gant
California Youth Symphony With Leo Eylar at the podium, the long-lived (56 years) symphony presents its Young Artist Competition winner, 16-year-old pianist and Saratoga High School student Angela Hwang, performing on Rachmaninoff's Rhapsody on a Theme of Paganini. The rest of the program includes Ravel's Rhapsodie Espagnole and Rimsky-Korsakov's Scheherazade. Sunday (Nov. 11) at 2:30pm; Flint Center, 21250 Stevens Creek Blvd., Cupertino; $6–$12; also Nov. 18 at 2:30pm; San Mateo Performing Arts Center, 650 N. Delaware St., San Mateo; 650.325.6666.
Hewlett-Packard Symphony Orchestra To mark the start of its 15th season, the orchestra runs the classical table, from Schubert's Unfinished Symphony to John Williams' score for Star Wars, with stops along the way for Smetana's The Moldau and Peter Warlock's Capriol Suite. George Yefchak conducts. Friday (Nov. 9) at 7pm; Foothill Presbyterian Church, 5301 McKee Road, San Jose; donation $10; 408.258.8133, ext. 105.
San Jose Chamber Music Society This month's guest artists are four women skilled in the Baroque playbook. Flutist Janet See, harpsichordist JungHae Kim (from Ensemble Mirable), cellist Joanna Blendulf and violist Carla Moore will perform selections from Bach (including a Brandenburg Concerto), Vivaldi and the lesser-known Austrian composer and church organist Georg Matthias Monn. Sunday (Nov. 11) at 7pm; Le Petit Trianon, 72 N. Fifth St., San Jose; $25–$40; 408.286.5111.
Philharmonia Baroque Period instruments at the ready, the ensemble salutes Telemann with recorder soloist Marion Verbruggen and flutist Stephen Schultz performing the Baroque master's Concerto for Recorder and Flute in E Minor. Also on tap are Rameau's Suite d'orchestre from Castor et Pollux and Rebel's Les caractères de la danse, Vivaldi's Concerto for Violin in B-Flat Major and Bach's Concerto for Recorder in F Major. Friday (Nov. 9) at 8pm; First United Methodist Church, 625 Hamilton Ave., Palo Alto; $30–$72; 415.252.1288.
Palo Alto Chamber Orchestra The Sinfonia arm of the orchestra inaugurates a new season with concerto competition winners violinist Albert Tseung and cellist Katherine Tseung as guest artists in a program of works by Mozart, Grieg, Schulhof and Haydn. Saturday (Nov. 10) at 8pm; Cubberley Theater, 4000 Middlefield Road, Palo Alto; $5–$10; 650.856.3848.
Send a letter to the editor about this story.