11.07.07
home | metro silicon valley index | silicon valley restaurants | review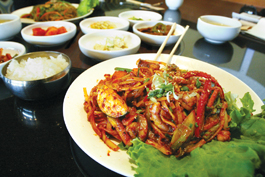 Photograph by Felipe Buitrago
MOLLUSK, NO CAUTION: Nakkal Bokum—baby octopus with noodles and spacy sauce.
Right on Que
Beque takes Korean BBQ to the next level—upscale
By Stett Holbrook
AS YOU probably know, the strip of El Camino Real that runs through Santa Clara is Silicon Valley's epicenter for Korean food. While the quality of the food served in these restaurants varies, the décor is pretty much the same: clean, utilitarian and otherwise unremarkable.
That's what makes Beque Korean Grill unique.
The 8-month-old restaurant is the first Korean restaurant that I've been to with a real sense of style and design. Beque (it's pronounced like "bq," as in bar-b-que) has a sleek and modern edge. The walls of one side of the restaurant are backlit with lights that slowly change from purple to blue to pink and back again. Other walls feature wooden slats. The tables are black granite. There's a minimalist strip of grass growing from a planter box above a row of tables. Jazz plays from a crisp sound system and all the servers wear black.
But the coolest things in the restaurant are the tabletop grills. Eating Korean barbecue is a visceral experience, because you get to watch meat and vegetables cooking right in the middle of the table. Depending on how attentive or possessive your waitress is (I've never had a waiter at any Korean restaurant), you can grill your beef or octopus yourself. It's built-in entertainment, kind of like a do-it-yourself Benihana without all that goofy spatula flipping.
The downside of sitting around a grill as your food smokes and sizzles is you end up smelling like you sat around a grill as your food smoked and sizzled. Poor ventilation systems often mean you're forced go on living your Korean barbecue experience long after you've left the restaurant. But the ingenious Japanese-made grills at Beque have quiet yet powerful hoods built into the rim of the grill. The smoke never leaves the grill. It just gets sucked into the holes around the grill and away from the table. (I wonder if Santa Clara has a heavier carbon footprint given all the Korean barbecue restaurants venting their grills into the atmosphere?)
Of course, all this flash and polish wouldn't matter if the food weren't good. But it is—often quite good. The menu is vast. In addition to some 21 different grilled items, there are numerous stews, soups and noodle dishes. There are several appetizers, like the overly tart green apple and prawn salad, pork satay and weak fried dumplings, but they're hardly necessary given the bounty of banchan that come with each meal. The assortment of little dishes of kimchi, pickled vegetables and chilled braised beef changed on each of my three visits. As it is, all the white banchan plates take up most of the table space, so you won't have room for much more.
For dinner, I concentrated on the grilled items. You can do no wrong with the jumulluk yang nyum galbeesal ($20), a mouthful in more ways than one. Made with thin slices of beautifully marbled short ribs that have been cut off the bone, the crimson beef has a light marinade and grills up wonderfully.
Samgyupsal ($17) is thick slices of pork belly, the raw material for bacon. The meat isn't seasoned, but hardly needs to be. Cooked on the grill with some onions and mushrooms the meat has enough flavor on its own.
Note that not all of the dishes on the barbecue section of the menu are cooked at the table, so be sure to ask. Bulgogi ($18), a Korean barbeque standard, is one such dish. The thinly sliced, garlicky beef is good, but I like it better when I cook it myself. It arrived looking like it was stir-fried instead of grilled.
The lunch menu doesn't have any grill-it-yourself items, but there's plenty that's worth ordering. If it's a cold day, go for the kimchi chigae ($8), a tofu stew made with spicy, garlicky bean paste, tofu and tender green onions. It's more warming than spicy.
The dduk mandoo guk ($8) is another winner. The dumpling and short-rib soup is mild mannered compared to many dishes, but it quickly works its charms. The dumplings pop with ginger and garlic enlivened flavor. Slices of rubbery but satisfying rice cake and a poached egg round out this meal-in-a-bowl.
On the other end of the spectrum, the jap chae ($9) and nakkal bokum ($10) pack lots of punch. Jap chae is a lively stir-fry of translucent yam noodles with slices of rich, marinated beef and vegetables. Nakkal bokum tosses fettuccine-like noodles and baby octopus in a bright red chile pepper-miso paste sauce. While the octopus was rubbery, the fiery sauce kept me digging in for bite after bite.
Meals conclude with a complimentary bowl of sweetened rice water, a refreshingly light end to a meal.
Korean food is long overdue its 15 minutes of fame. While Vietnamese, Thai, Mexican, Indian and Japanese food have broadened their appeal beyond their ethnic constituencies, Korean food has yet to go mainstream. But I think its day is coming. A good-looking and good-tasting place like Beque will help spread the word.
---
Beque Korean Grill
Address: 3060 El Camino Real, Santa Clara
Phone: 408.260.2727
Hours: Mon-Fri 11am-10pm, Sat noon-10pm and Sun noon-9pm
Cuisine: Korean
Price Range: $10-$25
Send a letter to the editor about this story.