11.07.07
home | metro silicon valley index | movies | current reviews | film review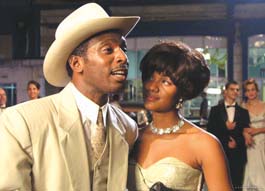 THE MUSIC MAN: 'El Benny,' the story of Cuban musician Benny Moré, plays Saturday (Nov. 10) at the Latino Film Festival.
Latin Screen
International Latino Film Festival delivers two weeks of eclectic viewing
By Richard von Busack
HERE, IN ONE of North America's most Latin cities, the 11th International Latino Film Festival commences with a free Nov. 7 screening at 6pm at the Dr. Martin Luther King, Jr. Library of the Chilean documentary City of Photographers. Then the two-week-long San Jose leg of this Bay Area–wide fest kicks off at Camera 12 at 6pm with a Luis Valdez tribute (see page 73). At 8:30pm, the festival screens the piquantly titled Chica tu madre, a feature film about a Lima Peru taxi driver who begins to rely on tarot cards to guide him through trouble.
Nov. 9: Y tu mamá también (2:30pm): Working-class Julio (Gael García Bernal) and his well-born buddy (Diego Luna) encounter Luisa (Maribel Verdú), a worldly woman from Madrid. Watch this 2002 feature again and then tell me that Superbad is a classic. Concursante (5pm): A riches-to-ruins comedy from Spain. El brassier de Emma (7pm): Muy preciosa and as girly as girly can be. Director Marisa Sistach's coming-of-ager concerns Emma (the widely grinning Sofía Espinosa), who wants to make that great leap into womanhood in Mexico, 1962; fortunately, she meets little resistance from her nonchurchgoing, affluent parents. Sistach stays focused on everybody's favorite glands, from Marilyn Monroe's free-range boobies at the beginning to the looped pink ribbons on the closing title cards. Plentiful Hanna-Barbera sound effects are dubbed in to make it all more cartoonish, including the old "honk the gazonga" gag.
Nov. 10: A much more macho pair of films starts up the day. Football: Birth of a Passion (12:30pm) tells of how fútbol took over the world. It's followed at 2:30pm with J.C. Chávez. Chávez's record speaks for itself: 108 wins, 6 losses, 2 draws, 87 knockouts. This heavyweight documentary by Diego Luna (of Y tu mamá también) is a tribute to both a ferocious fighter and soft-spoken human being. Malos hábitos (4:30pm) is Simon Bross' feature about the pleasures and pressures of the flesh, set during a downpour in Mexico City. And then it's back to the arena at 6:30pm for Los pajarracos (a.k.a. Scavengers). In Héctor Hernández and Horacio River's comedy, a scandalous lucha libre wrestler called "Cachondo" ("hottie," "horndog") runs off to Los Angeles to become an Olympic wrestler. El Benny (8:45pm): Jorge Luis Sánchez's biopic of Cuba's Benny Moré is a heartwarming story of a well-rewarded musician with a calm personal life. I'm kidding, it's a biopic—great music, not-so-great melodrama.
Nov. 11: Hijos de la Guerra (noon), a study of the dread Mara Salvatrucha gang, better known as MS-13. El violín (1:45pm): In Guerrero in the 1970s, an elderly violin player isn't what he seems. Cheese Head: My First Ghetto (3:45pm): At his country club, an Argentine Jewish child begins to understand how the world works. Lola, la película (6pm), about Anadalusian musical star Lola Flores, who starred in Spanish films for nearly 50 years. Deserto felix (8:45pm): In Brazil, a village girl descends to the lower depths.

THE INTERNATIONAL LATINO FILM FESTIVAL takes place at Camera 12 in San Jose and other locations. See next week's Metro for more coverage. Check www.latinofilmfestival.org for complete schedule.
Send a letter to the editor about this story.