11.07.07
home | metro silicon valley index | movies | current reviews | film review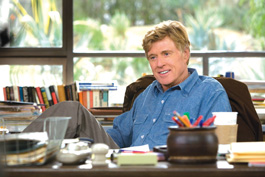 Photograph by David James
PROFESSORIAL: Robert Redford teaches poli-sci at an unnamed university that must be Cal in 'Lions for Lambs.'
Redford's Roar
'Lions for Lambs' is a heartfelt, desperate—and wishy-washy—plea for relevance
By Richard von Busack
ONE COULD READ Lions for Lambs, a short yet talky social studies film, as Robert Redford's sincere apology for turning a generation into mediocre indie filmmakers instead of activists. Working from a script by Matthew Michael Carnahan, Redford engineers this as a series of two-handed conversations occurring simultaneously over the course of a fateful hour. In the Hindu Kush, two Army Rangers (Derek Luke and Michael Peņa) are mortally wounded and stranded in the snow. In Washington, D.C., a reporter, Janine Roth (Meryl Streep), interviews a handsome Republican senator, Jasper Irving (Tom Cruise), who has a new strategy for winning the war in Afghanistan. Roth had called Irving the future of his party; now she wonders if that wasn't "pejorative." In "A California University" (the production notes say it's Berkeley), a wary poli-sci professor (Redford) interviews a warier student (Andrew Garfield) who is making a choice for frat life and hedonism.
Since Redford is the director, you don't exactly need a compass to find the moral center of the drama. Redford's Dr. Malley is essentially John Kerry—a Vietnam vet who turned against the war, so that he could be both hawk and dove, or lion and lamb. The cinematographer is Philippe Rousselot, and he knows how to restore Redford to the iconic beauty he once enjoyed. Redford beaten by age is still Redford. This film had a better chance of rhetorical tension if the professor had been a Paul Giamatti—someone smaller than life, someone who looked like they knew what it was like to be really roughed up.
In flashback, two of Dr. Malley's students—who became the hapless soldiers—also have a plan, which they present as a class project: a draft to bring young men and women into either a Vista-like volunteer plan or the military. Streep's Roth, a reporter who somehow made the leap from Time to broadcast media, is seen resisting a devil's deal. Irving, who had once sold her the war, now tries to sell her "and the few who are paying attention" on a new strategy, as a scoop for her. In this acting battle, Streep looks sniffly, as if she needs a Benadryl. She is unable to keep up with the tricks of this senator whose master plan is to unveil a small-unit ambush plan like Gen. Abrams' strategy in Vietnam. Creighton Abrams is a great name to drop, and I was happy to hear Streep's character drop it. The rewriting of the Vietnam War continues apace; essential to the rewrite is the story that the Abrams strategies would have led to success if it weren't for the public and senatorial backstabbing of our troops. We need to beware of the rewriting effort under way already on Iraq. That's why questions like Irving's thundering "Do you want to win the war on terror? YES or NO?" deserve a prompt answer: "Resign right now or be voted out." This wishy-washy liberal film shows its lack of backbone in the title's mangling of a famous World War I quote; it wasn't "lambs led by lions" but "lions led by jackasses," according to some reports. Calling our leadership sheepish is one thing. At this point, we might have appreciated something a little more, eh, pejorative.

LIONS FOR LAMBS (R), directed by Robert Redford, written by Matthew Michael Carnahan, photographed by Philippe Rousselot and starring Redford, Meryl Streep and Tom Cruise, opens Nov. 9 valleywide.
Send a letter to the editor about this story.