10.31.07
home | metro silicon valley index | movies | current reviews | film review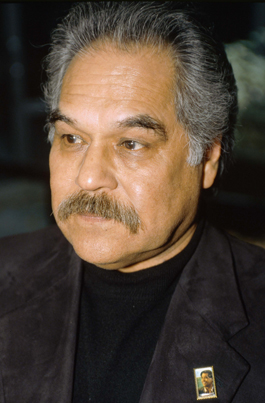 Luis Valdez Honored at Latino Film Festival
Interview by Richard von Busack
Northern California playwright and director Luis Valdez will be honored Nov. 8 at the Latino Film Festival's "Noche Chicano" event at Camera 12 in San Jose. Valdez will be on hand along with a short documentary and a film by the next generation of the Valdez family.
Justly celebrated as the first Chicano film director, Valdez will be forever known for 1981's Zoot Suit—the film version of his play, a comic-tragic vaudeville based on the racist Sleepy Lagoon trial in Los Angeles, 1943. Valdez' 1987 bio-pic of Richie Valens, La Bamba, was an international hit. For several decades Luis Valdez and his family have kept alive the dream of a people's theater for the Central Valley's farm workers, El Teatro Campesino.
METRO: My first question is, whatever happened to that great neon piano in 'Zoot Suit'?
VALDEZ: (Laughs). I guess it's part of the Universal Studios prop department.
Many directors have got Edward James Olmos' rough side, including Ridley Scott in the soon-to-be-rereleased 'Blade Runnder," but I've never seen his really feline side as clearly as in 'Zoot Suit,' playing El Pachuco.
It's all a part of El Pachuco's character. Olmos worked at it a couple of years on the stage and did isometrics. He was wearing a back brace during the end of the run in L.A. You can see his physical power even in the stills. Zoot Suit came at a good time for me. For 10 years I'd been doing improv, short pieces, skits, one-act plays—plays people still do today. I was working with the collective and keeping my hand at the tiller. I was lucky because I got into the movies through my theatrical work. Theater opened the doors for me. If I hadn't had that background, I would have joined the 50 million people knocking on doors in Hollywood trying to get in. But El Pachuco became something of a favorite character to me. We had him painted on the walls for the play. He gets to move around the play, to be an emcee, a raconteur, an alter ego and Greek chorus.
It seemed to me that 'La Bamba" reiterated the figure of El Pachuco in Esai Morales as the bad-boy brother. Morales' character also has a cross tattooed on the web between his forefinger and his thumb.
There's something to that idea. The cross is the pachuco symbol. At the time, "Bob" Morales was a rebel and a biker, a hell-raiser, close enough to the character to play Richie's brother and alter ego. In an early play I wrote, called Bernabe, I had a mythology story going. It was about the sun, the moon, the Earth and a village idiot. The idiot was in love with the earth and was boppin' it. Earth's brother, the Moon, came down to find out about it, and to ask the idiot if he was going to get serious and ask for the Earth's hand. The Moon was wearing a zoot suit. I decided to save the character.
My later play Mundo Mata (http://www.metroactive.com/papers/cruz/06.13.01/valdez-0124.html), which means "the world kills," has a similar pachuco figure. It's a play produced by Teatro in 2001. He's the same kind of character, updated to be a Vietnam vet called Salvador Mata [played in San Jose by Luis' son Kinan Valdez]. One element in the play is a possible assassination of Cesar Chavez. Salvador, who is considering doing the assassination, has a turnaround. He pays for it. I've been writing a film script for this, and there's been interest in it.
I liked the line where El Pachuco sums up the main character as they share a moment in solitary confinement: "You've made yourself a victim of the pinche racists." 'Zoot Suit' is different than the usual level of political theater, where there are two kinds of people: cruel oppressors and helpless victims who might turn violent because they have no other choice.
El Pachuco works on three levels: private, personal and professional. His private aspect is as a superego ...
As patron of "heroes and fools ... "
The personal is the way he steers the hero in relationship with his family. The professional is his gang affiliation. Henry becomes an adult when he rejects El Pachuco and does the right thing by his girlfriend.
What was the writing process of 'Zoot Suit' like?
A memorable way of working, but I wouldn't recommend it. I got a Rockefeller grant and a grant from the Mark Taper Forum to complete the play, in the spring of 1978. I'd done a lot of work on it, but then came the last week before deadline. My wife was nine months pregnant, and two weeks overdue. She said, "You've got to finish the play before the baby is born."
I went 72 hours without sleep to do it. It was like being in a zone, that state of mind. I flew to L.A. for a production meeting. As soon as I got there, I got the call that her water had broke. I hopped on a plane and headed back, and my third son Lakin was born.
When did you hear about the Zoot Suit riots?
I heard about the pachuco phenomenon through osmosis. My parents thought pachucos were dangerous and disreputable. My mother told me about how we had been staying in L.A. with relatives when I was three. Since the violence and intolerance broke out, we headed back to the Central Valley.
Later, when I was in college, I read Carey McWilliams' book on the trial. [McWilliams was the chairman of the Sleepy Lagoon Defense Committee.] It had a tremendous impact on me. I thought there was grist for a play. When Teatro was on tour in L.A., I tried to find people who would talk about the Sleepy Lagoon case. I met the widow of a blacklisted screenwriter who gave me a pamphlet on the trial. I tried to interview the widow of one of the defendants, too, but she didn't want to talk about it.
Gordon Davidson, the producer of Zoot Suit, closed the circle by getting me Carey McWilliams' phone number. McWilliams was living in New York, right across from Columbia University. He was just about to retire, and he was in ill heath. His wife, Iris, was there to keep an eye on me: I was supposed to talk for 45 minutes, and ended up talking for forhours. Williams gave me Alice McGrath's ([ http://www.metroactive.com/papers/cruz/10.10.96/mcgrath-9641.html ]http://www.metroactive.com/papers/cruz/10.10.96/mcgrath-9641.html) phone number. [McGrath is the model for the female CIO activist in Zoot Suit.] Actually, I just saw her when I was down there recently.
She's still alive?
She's in her 90s, so she's starting to feel her age.
Going back before 'Zoot Suit': entertaining farm workers during a strike sounds as dangerous as hell. The real danger was during the grape strike. They didn't trust us on both sides of the fence. Actors? Who are these people, clowns? And community people didn't like it, either. I was beaten, I had a loaded gun pointed to my head, and I was jailed. Par for the course.
On the road, we had all the hazards of cross-country driving in old vehicles. There were a couple of accidents. One van rolled over. A pickup truck accident down in Los Banos put people in the hospital. Playing the university campuses were less dangerous. In 1967, though, the country was on fire! We did our tour to New York, and played the Village Gate and then went to D.C. to play the Senate Subcommittee on Migratory Labor. The National Guard blocked us before we could get to Detroit. So we went into Chicago, one day before the riots. Even white people came to the South Side where we played at a high school auditorium for the "Huelga Fundraiser." The streets were empty before they got there and the right after they left. Next day there was a riot, shit flying around, guns: Chicago on fire. Dangerous times. We ran into real trouble, but you're young, you don't worry about it.
When was your debut onstage, back at San Jose State?
When I was 6 I got cast in a school play; I had a mask I was going to wear, made out of a lunch bag. I started school late, in October, right after the cotton-picking season was over. I was out of this world with happiness to be in a play, but then we were evicted from the labor camp. Our truck had been on blocks all summer, but my dad finally got it fixed and started. Off we went.
Afterwards, I tried to turn negatives into positives. I started to play theater. I made masks, and got my friends to try to improvise. They wouldn't, so I started writing scripts. I was a playwright at 7.
My friends stopped coming, so I started making puppets. At 12 or 13, I got a Jerry Mahoney dummy [the wooden sidekick of celebrity ventriloquist Paul Winchell], and I learned how to talk without moving my lips. I started working in San Jose performing a labor camps.
I transformed Jerry into an Anglo character called "Allie Nelson." I made him a little porkpie hat and wrote "Cool Cat" on the brim, gave him a little mustache and a goatee. Then I carved up a Chicano dummy out of balsa wood and called him "Marcelino." They were sort of a double act; I'd have them talking to each other. I was performing onstage at my high school during sophomore year. Someone from a local TV station saw it. So the FCC in those days demanded that there should be a half-hour hour broadcast in Spanish a week. It was on midday Sundays. On live TV, on a show called Fiesta, I had five minutes for myself. I was on the inaugural broadcast. I was on 18 weeks in 1956—the whole thing, scripts, rehearsals, art directors, three cameras, me and the dummies. I did what was called "Actos" (skits). I did this bullfighting parody with a bowl of dried beans as the audience at the arena. I had all this experience when I was a sophomore in high school. It was double vision for me: there I was on live TV, and I'd come home to our house on a dirt street in San Jose's East Side ... back to the poverty of my family.
Did you get a theatrical scholarship at San Jose State?
No, I kept up with my homework. I'd got a Berkeley scholarship, but I was screwed out of it, and that's another story. San Jose State turned out to be a good thing for me. It was close to home, and it was also a rich environment in 1958–64. I was studying physics and math. I loved math, the certainty of it. If you really worked out a formula, it couldn't fail.
Did you meet Cesar Chavez at San Jose State?
This was a different California we're talking about. There was less population, maybe 6 million or so, and let's say there's 500,000 farm workers up and down the state. Chicanos tended to know each other. I was in a Delano labor camp when I was young, and my cousin Billy was hanging with a pachuco called "CC," who was his running partner. Billy died violently when he was 25, but "CC" survived. Later on, when I was talking to my aunt about Cesar Chavez, she reminded me that we knew each other back in Delano. Cesar was intrigued about that family connection.
When did you start doing theater arts at SJSU?
I got to school at 7:30 in the morning, so I'd always make a detour into the drama building where it was warm. I started spending a lot of time there. After the first couple of years I transferred to English major and took playwriting. It wasn't very practical.
I'm imagining your parents would have wanted you to stick with physics, since the Silicon Valley was starting up.
There really was only was Fairchild Semiconductors back then. My parents were just happy I was going to college. We were farm workers: getting a job as a janitor would have been an improvement because it would be working inside. They were happy and proud that I could become a teacher. They hadn't known much about show biz, and if they thought I was headed there, it would have been less appealing to them.
It was a rich time. I got to go to Cuba in '64 to protest the travel ban. I spent two-and-a-half-months there and played baseball with Che Guevara. I think what they wanted most of all in Cuba was Coca-Cola—they missed the United States, and they were making fun of the Russians and Chinese who were coming into the country.
There's a documentary at the Latino Film Festival of the 600-plus times the United States has tried to kill off Castro.
No one should be the leader of a country for 40 years. I think when Raoul comes in as a transitional figure, we may be able to get over the bad memories. And the older generation has to die off in Florida, the ones who are still mourning over their lost property. I've been to the history museums in Cuba and seen what they went through; they didn't want to be a brothel for the United States. We have to get over the whole idea of Central and South America as a place for the United States to crap on. That's why when someone like Hugo Chavez stands up to the United States he becomes a hero.
The border issue in America, too, is another problem. The Mexican border is no longer this line between good and evil like it was in the popular imagination. The way it is in Touch of Evil, with Charlton Heston playing a Mexican.
It's still that way in Cormac McCarthy novels. I think if there's a stereotype in that film, it's Akim Tamiroff, a Russian playing a Mexican. Anyway, it's pretty clear what the evil side of the border is in that movie: Orson Welles' side, the Yankee side. And Welles was on the Sleepy Lagoon committee, too.
He was married to Rita Hayworth at the time.
When I go back to 1940s movies, the time of the Zoot Suit riots, what impresses me is the Latinphilia. Cut off from the European markets, they brought up all of these Mexican stars.
The studios presented Latin America as an ideal place for a vacation.
There's an essay by Pauline Kael where she talks about how good Ricardo Montalban was in the 1940s musicals, and how he never got his big break because of prejudice, up until 'Strek Trek II."
I was talking to him about working in a film, but unfortunately he'd broken his leg, and he could only get around in an electric scooter. I admire what he's done, and he doesn't have regrets about his career. I've gotten to meet Anthony Quinn, Gilbert Roland—that's what I love about doing this, is that I get to catch up with all my heroes.
That's what keeps me going!
Do you know Emilio "El Indio" Fernandez? [Pioneer of Mexican cinema, director of Maria Candelaria and principal director of the Golden Age of the 1940s.] He's in The Wild Bunch as Gen. Mapache. I'd wanted to cast him as the Snakeman [billed in the credits as "The Curandero"] in La Bamba. Unfortunately, he'd been in a bad motorcycle accident. [At age 82, yet.] I told his wife I'd like to use the maestro in a film when he got better. He didn't survive. Eventually, I cast Felipe Cantu, who had been with us since El Teatro Campesino, and he did a great job. It was the last role he ever played. He died of cancer afterward. You were mentioning that you're working on your memoirs. Do you have a title yet?
There are actually two books I'm working on. One is a general history of El Teatro Campesino. The other is a personal memoir, and I don't have a title for that yet.
There's a short documentary showing during your night at the Latino Film Festival. Were you sorry about anything it left out?
I'm very happy with it. It was shot in San Diego during El Teatro's 2005 visit. El Teatro Campesino started 42 years ago, and we've been in San Juan Bautista 36 years. If you look out on the street here, nothing much has changed in the past 100 years except for the cars. It's a historical park and is intended to be preserved just as it was. But it's an economic struggle to stay here in San Benito County. There's no hotel taxes to fund the arts. You're on your own.
The first 10 years in the 1970s we were a touring company, going to Paris and New York. During the 1980s, the movies were going on and I was working out of L.A. Then came the NEA cuts. ... I was a member of the NEA during the Clinton years, but even though I was on the inside track there and saw how it gets done, I couldn't use it to benefit the theater. It was easier when we were just passing the hat. We're equity and unionized, bringing actors up from L.A. when it's feasible. My sons were working with me: my eldest, Luis Anahuac, my middle son Kinan, and Lakin—which is Mayan for "Sunrise."
Anahuac is a digital editor in L.A. now, but he still helps out long distance. He and Kinan worked on a short film Ballad of a Soldier, based on my play Soldado Razo, and that's screening the night of the tribute. The legacy is all there. El Teatro is continuing to evolve. The Shepherd's Play is coming up this winter, and that keeps me busy. Lakin is teaching acting in Berkeley. We're bringing in students from the tri-county area from Soledad to Oakland. What's amazing to me is how the El Teatro continues: volunteer work, new talent, and all this love just keeps the doors open.
Send a letter to the editor about this story.